NEWS
BRAD: I STILL LOVE JEN!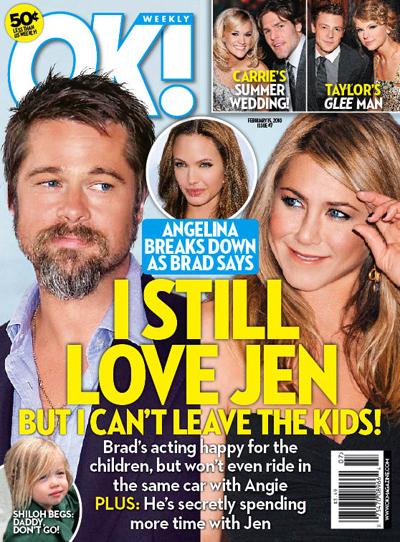 Brad Pitt and Angelina Jolie: Despite presenting a united front for awards season, the glamorous couple's relationship is dissolving, according to several sources. Friends of Brad say he sometimes regrets leaving Jennifer Aniston and actually still loves her, but he stays with Angie for his children's sake. Ian Halperin, author of Brangelina: The Untold Story, predicts the couple will announce their split "when no one expects it."Plus: Professional analysis on Brad's usually unkempt beard, photos of their most memorable happy moments and snapshots of Brad bonding with each member of his brood. CLICK HERE TO READ THE WHOLE STORY!
Elin Nordegren: Tiger Woods' estranged wife has put her divorce plans on hold as Tiger confronts his sexual addiction at the Pine Grove Behavioral Health & Addiction Services facility in Hattiesburg, Miss.
OK! Grammy Special: OK! recruited E! News's Giuliana Rancic for a special red-carpet report on Grammy gowns. Plus, check out photos of the night's wildest moments (from performers like Lady Gaga) and most romantic couples, like Carrie Underwood and her fiancé, NHL player Mike Fisher. CLICK HERE FOR ALL OF OK!'S GRAMMY COVERAGE!
OK! Olympics Special: Hosts of the Today show recount their favorite Olympic moments and stars talk about the events they're sure to watch. Check out OK!'s guide to the Olympic athletes with the biggest buzz this time around.
Valentine's Day Gift Guide: Reality star Audrina Patridge reveals her top picks in steamy lingerie for the big night. And, take a look at this collection of treats to score major points with your sweetheart. CLICK HERE FOR OK!'S VALENTINE'S DAY GIFT GUIDE!
Article continues below advertisement
Plus: Extra host Mario Lopez shares pics from his trip to the Sundance Film Festival; Real Housewife of New York and mom-to-be Bethenny Frankel dissects her daily diet with celebrity nutritionist Keri Glassman; Renée Zellweger and Bradley Cooper might be hearing wedding bells. OK! shares skincare tips for achieving Jessica Simpson's natural new look. Find out why Rihanna works out at midnight — her diet and fitness secrets revealed. And OK! Contributing Beauty Editor Kim Kardashian details her entire hair-styling regimen.