NEWS
Brit's Out of the Hospital & on the Road!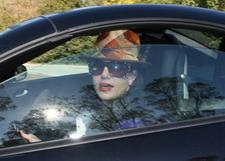 Only a few minutes after OK! confirmed that Britney Spears was released earlier today from UCLA Medical Center, witnesses were calling in from all over the Los Angeles area to let us know that Brit, with a bodyguard in the passenger seat, was once again behind the wheel of her black Mercedes-Benz and driving aimlessly around L.A. — first through the San Fernando Valley and then speeding westward on Sunset Blvd. toward the chic Brentwood area (watch video ).
Article continues below advertisement
"She's back to her old ways," one witness tell OK! about Britney's behavior. "Speeding, switching lanes erratically. It's like she never went to the hospital at all."
As Britney, with her hair was piled up under a plaid cap and full makeup on, hit L.A. traffic, the phalanx of paparazzi following her would surround the car. The bodyguard in the car with Brit, who sources tell OK! was the same former Israeli soldier who often guards Lindsay Lohan when she is in L.A., opened his door several times in an attempt to shoo the photogs away.
And then around 3 p.m. PT, that bodyguard exited the singer's car for good. A photographer for photo agency X17 took over the driving duties and Britney moved into the passenger seat as the bodyguard was left by the side of the road.
At 3:15 p.m. PT, Brit's car pulled into the Beverly Hills Hotel, where the singer has spent many an evening in the last year, despite living only a few miles away. In the lobby of the hotel, Extra is reporting that Brit had a chance encounter with former TV newswoman, and First Lady of California, Maria Shriver. The pair reportedly commiserated over the waiting photographers before Britney was escorted up to a room.
Article continues below advertisement
(Video courtesy Hollywood.tv)
Earlier today, doctors for the singer determined that the singer was no longer a danger to herself and others and could therefore no longer be held against her will. Britney was escorted out of the hospital quietly with the help of a private security detail and was to be staying with her father, Jamie Spears, at her home in the gated community called The Summit.
However, sources tell OK! that Brit never went home to The Summit and instead was picked up by a bodyguard driving her black Mercedes-Benz.
Last week, the singer was taken to the hospital for the second time in under a month. It has been reported that she had been awake for as many as five days straight. On Feb. 1, a court ordered that Brit's father be named co-conservator of his daughter. The order was extended — against the wishes of Britney's lawyers — on Monday until a Feb. 14 hearing on the matter.