NEWS
Catching up with...Buckcherry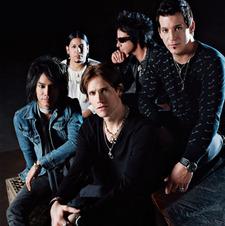 The band's lead singer, Josh Todd, opens up to OK! about his band, his music and his rock and roll aspirations.
Despite the current state of the industry, you've mangaed to sell a lot of records with the success of the your current album 15. Why do you think that is?
I always tell people it comes down to the songs. The old model has changed. The thing has hasn't changed is great songs and people are gonna want to play them and as long as the songs great people are gonna wanna hear them. That's when everything happens. "Sorry" is still going. It's awesome. We took a lot of time to get it. It's not easy. We did a lot of back and forth. It was worth it.
Article continues below advertisement
What's inspiring the album you're currently working on?
A lot of different things- books I read, I wrote about lives around me people and things that see around the world.
What is your ultimate goal with the band?
Whenever you sit back and make goals it's cool at the end to see what you've accomplished. I always like to look back and see what was my mindset. In a lot of peoples eyes we were washed up and we had a lot to prove. We figured as long as we had the record of our career, we kept moving forward.
What do you prefer- working solo or in a band?
I prefer being in Buckcherry. It's just something that I was passionate about. Keith and i write all the songs and we have an amazing chemistry. I never wanted to be my own thing.
What do you want to do that you haven't done yet?
Since I started in music I always wanted to be in one band. I wanted a catalogue like ACDC or Aerosmith. I wanted to make a mark and eventually get to Rock and Roll Hall of Fame. That's what I dreamed about and what I want. We had a little glitch in the whole story but we figured out what out mistakes were and it all worked out.
So, you're not one of those bands that look down at being a mainstream success?
I don't even undertsand that. It doesnt make any sense to me. That's like telling me you want to be a musician and you don't want to have success. That's not what you want. I want to be enormous. I don't want to be some band that no one cares about it. You gotta think big.
By Jocelyn Vena