NEWS
Catherine Zeta-Jones Heads Back to Work After Seeking Treatment for Bipolar Disorder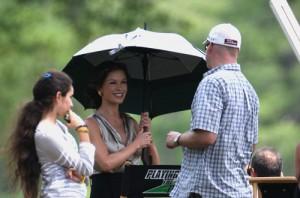 Catherine Zeta-Jones is back to work on the set of Playing the Field just one week after going public with news that she was seeking treatment for Bipolar II disorder. Catherine looked happy and healthy Tuesday, smiling as she was prepped for scenes in Shreveport, La. The film also stars Jessica Biel and Gerard Butler.
Her husband, Michael Douglas, and their two children are reportedly with her on set, forming a strong family unit.
Article continues below advertisement
Catherine had a stressful year in 2010, standing strong by Michael's side as he battled Stage 4 throat cancer. Now she is trying to move forward and staying busy as she continues to treat her mental health.
Filming in Louisiana yesterday was the first time Catherine has been sighted since her announcement that she has Bipolar II and is seeking treatment at a mental health facility in Connecticut.