NEWS
Celebrities Spotted Out and About – Week of April 22 and 29
Brittany Snow sips Lipton Sparkling Iced Tea while filming a commercial to celebrate the launch of the new citrus green tea flavor in Los Angeles (watch the spot here).
Chris Brown was recently spotted at Haus NY until 4am.
Ashlee Greene made sure to customize two pairs of Supergas for her and her boyfriend to match in for the rest of Coachella and adding in a variety of pink, blues and yellow they are sure to be a standout at any party.
Prepared to battle the desert heat, Joe Jonas and his band DNCE hydrated with Essentia alkaline water as they amped-up a crowd of partygoers with some of their favorite songs including Cake By The Ocean closing weekend one of Coachella with a bang.
On Saturday night (April 16), Teresa Giudice, of Bravo TV's Real Housewives of New Jersey, visited Mohegan Sun Casino in Connecticut for a hugely successful Reality Check event.
Cody Simpson enjoyed his at the Hard Rock Hotel Palm Springs before heading to Coachella to meet up with friends including Brooklyn Beckham and Pia Mia. The Australian singer and his guy friends enjoyed the music off the festival grounds as they were spotted on Sunday playing around on the guitar at the lobby of the hotel.
Actress Rachel McCord seen cooling off in the April heatwave on Santa Monica Beach in socoolkids tee shirt.
After an 11-month stint in space, astronaut Scott Kelly has come back to Earth to enjoy New York's legendary Patsy's Italian Restaurant. From space dining on Rehydrated Burgers and Ice Cream, he has taken quite an upgrade enjoying the restaurant's classic Spaghetti and Veal meatballs today for lunch.
Katie Holmes and Crocs take a "Mom's Day Off" with Sunrise Day Camp at the Crocs 34th St. Store in NYC.
On Friday, Galore Magazine and Missguided teamed up to present a F*cking Fab Pool Party in Palm Springs, California to kick-off Coachella Weekend One. Guests sipped on Absolut cocktails by the pool while listening to sick DJ sets by Jordyn Woods, Yesjulz, Alie Layus, Kittens, SoKo, and Ana Calderon.
Jaden Smith rocked PUMA Suede Classic sneakers to day two of the 2016 Coachella Music Festival. Spotted with girlfriend Sarah Snyder, the stylish teen kept it casual in a graphic T-shirt and jeans.
Actress and new mom Rose Byrne (pictured below) joined Peter Pan Simply Ground Peanut Butter and stunned at a screening of The Meddler in NYC on Monday, April 18.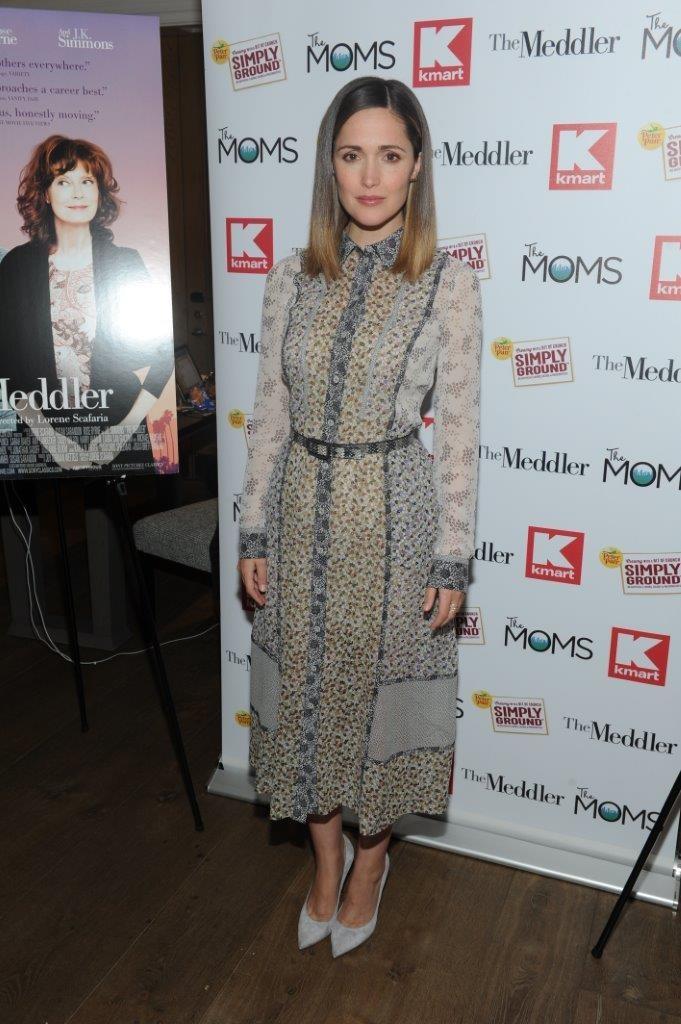 Article continues below advertisement
Mariska Hargitay, Ice-T, Andy Karl and the entire cast of Law & Order: SVU were seen celebrating another fantastic film season at OCEAN PRIME New York.
Freixenet Cava hosted The Meddler After Party with Rose Byrne, Susan Sarandon and Cecily Strong at Tribeca Film Festival, NYC.
Chicago Fire actor Jesse Spencer was spotted dining at the bar with a friend at Chef Sarah Grueneberg's Monteverde over the weekend (this past Saturday) enjoying some made-to-order pastas and other snacks while watching the pasta ladies shape, cut and roll pasta.
Singer-songwriter Solange Knowles attends Teva's Spring 2016 Artist Series collection launch party.
The cast of NCIS: New Orleans accepted their 2016 "Celluloid Hero" Award for their contributions and enthusiasm to their city during the New Orleans Film Society Gala.
Ryan Serhant hosted a party for 1,000 + guests to celebrate the premiere of the new season of Million Dollar Listing: New York at NYC's Webster Hall.
Susan Sarandon telling Padma Lakshmi, Lena Dunham and Allison Williams how she broke her foot at the The Endometriosis Foundation of America's 8th Annual Blossom Ball. The evening awarded Sarandon and Dunham with the Blossom Award for endometriosis awareness.
Jean Reno co-hosted the SAGindie/SAG-AFTRA Cast Bowling Party at Lucky Strike during the Tribeca Film Festival.
Stunning stylish How2Girl Courtney Sixx caught rocking her Hippy-Chic look while at Coachella.
Josh Gad wearing Tommy Bahama while promoting his movie, Angry Birds in Hawaii over the weekend.
Rick Ross and a large entourage spent the evening at Jue Lan Club at the limelight in New York City.
Kendall Jenner left Charles de Gaulle Airport in Paris on April 21st holding her Happy Plugs Carrara Marble iPhone Case. The model donned an all-black ensemble with skinny jeans, patent leather boots and a lace-up black bodysuit.
Justine Sky performs at the Galore x Misguided party sponsored by Beautycon's Beauty Box.
Brooke Burke-Charvet (pictured below) partnering with the Poise brand to encourage women to "Seize their Poise moment" while in Los Angeles, CA.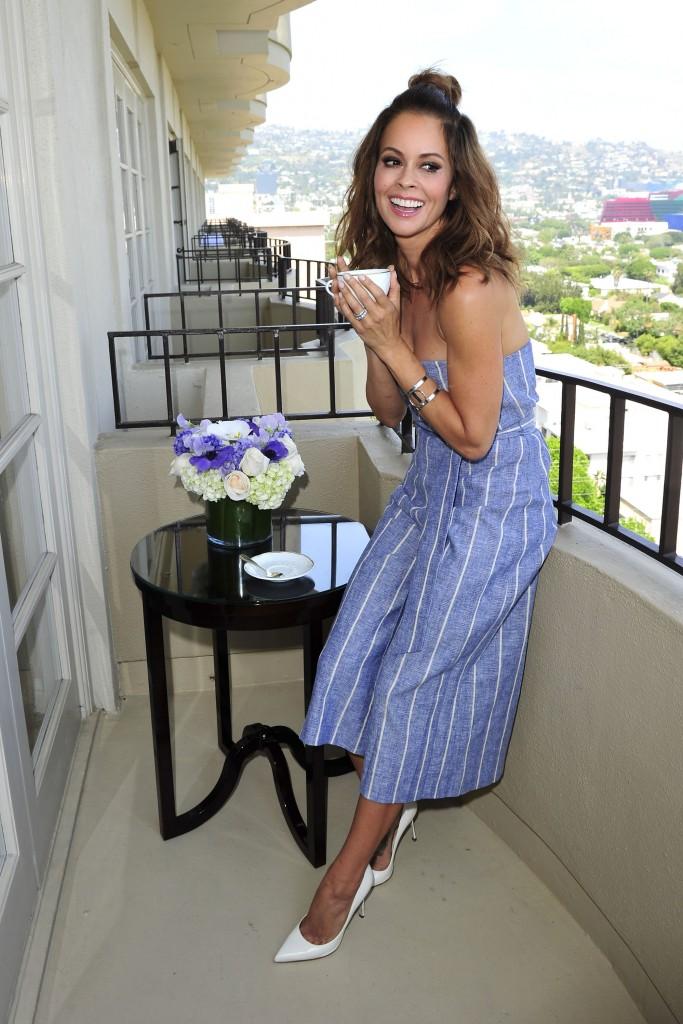 Robert De Niro, Danny Glover, Rachel Leigh Cook, Judy Greer and Mike Birbiglia were among the celebrities in attendance at the Tribeca Film Festival Awards at 42West in New York City.
Last Friday morning, The Grove and TreePeople hosted an Earth Day celebration with Holly Marie Combs. Holly was on hand to ceremonially water The Grove's newly planted tree in honor of Earth month.
On Wednesday, April 20th actress and singer Olivia Holt was seen in Beverly Hills leaving Dr. Ehsan Ali's office who is known as "The Beverly Hills Concierge" go to doctor.
Brooke Burke enjoying the view at Bar SixtyFive at Rainbow Room while promoting her book Chicken Soup for the Soul in New York City.
Jesse Metcalfe and finance Cara Santana showed each other some love at Vintage Malibu, after an exclusive luncheon hosted by The h.wood Group's Markus Molinari at Taverna Tony's in Malibu.
Zendaya and Jaime King (pictured below) attended Glamour's Game Changers Lunch hosted by Editor-in-Chief Cindi Leive & Zendaya at AU FUDGE on April 20, 2016 in West Hollywood. Guests sipped on wine provided by Twomey and champagne provided by Perrier-Jouët.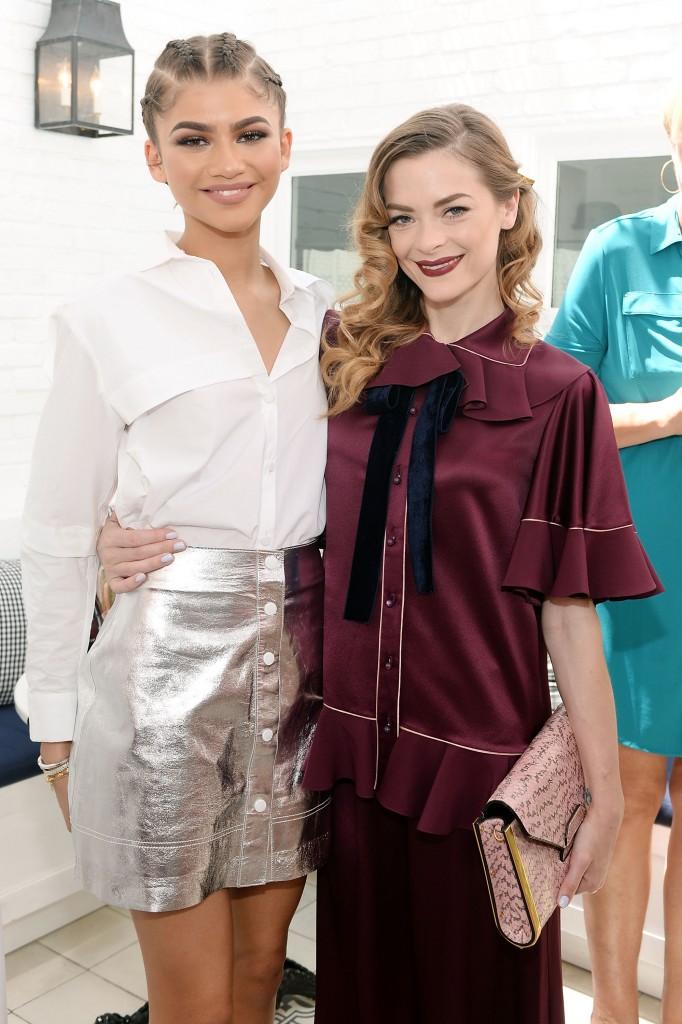 Article continues below advertisement
Hip Hop Hit maker Fetty Wap took over Stage 48 (605 W. 48th Street) to perform live, in celebration of DJ Prostyle's birthday bash on Sunday, April 17.
Last Friday, celebrity fashion hat designer Nick Fouquet hosted the exclusive launch of the world's first ever smoked silver tequila Humito, alongside Maestro Dobel Tequila founder Juan Domingo Beckmann.
Volunteers from Delta Air Lines and Indiana University were joined by The Bachelor's Ben Higgins to gift 45 bright pink bicycles for Girls Inc. at The Little 500 at Bill Armstrong Stadium on Friday, April 15.
Actress Candace Cameron Bure partnered with Unilever to encourage Americans to #RethinkRecycling in the bathroom.
Charlotte Ronson and NYLON's Style Director Dani Stahl attend the NYLON X MARC JACOBS #PATCHMARC event.
Ryan Cabrera enjoying margaritas and guacamole at Troy Liquor Bar in New York City.
Mercedes 'MJ' Javid speaking to Dr. Tabasum Mir for CBS RADIO GLAMMIR about this season of Shahs of Sunset, her fertility issues and how she found out Mike was cheating on Jessica the day before his wedding.
Gerard Butler enjoying a meal with friends at Blue Water Grill in New York City.
Bella and Dani Thorne were spotted getting Vitamin Drip Therapy by Dr. Ehsan Ali aka Beverly Hills Concierge Doctor last Friday night. Bella & Dani were ready for the ultimate IV recovery service bringing them back to life after the crazy festivities of Coachella.
Kim Kardashian-West, Kanye Westand Kourtney Kardashian were spotted with North West and Penelope were spotted having brunch at a communal, family style table at Wynwood Diner in Miami.
Academy Award Winner Jennifer Hudson and Orange is the New Black Star Danielle Brooks supported their friend Broadway actress Rema Webb at her one-woman show, Children Will Listen, at 42West in NYC this past Monday.
Tia Mowry encouraged her fans to recycle empty bathroom bottles through Unilever's #RethinkRecycling program.
Behind the scenes with MC Hammer on the set of the Command Do. No Harm. Campaign shoot.
Coco Rocha spent her "Mom's Day Off" with her daughter Ioni in their matching black Crocsin NYC.
Mischa Barton was spotted at The Grove on Monday evening. The Dancing with the Stars starlet stunned in a black dress as she was spotted walking with friends and indulging in a little retail therapy.
Orange is the New Black star Vicky Jeudy seen dining on Rock Shrimp and Crispy Tuna Rice at NYC celebrity hotspot SUSHI ROXX.
DJ Steve Aoki was spotted in the lobby at The Charles Hotel in Cambridge, MA this week while in town to perform at Harvard University's Yardfest event.
Kesha and a friend (pictured below) seen enjoying Tuesday night's LA Dodgers vs. Miami Marlins game in Los Angeles, CA.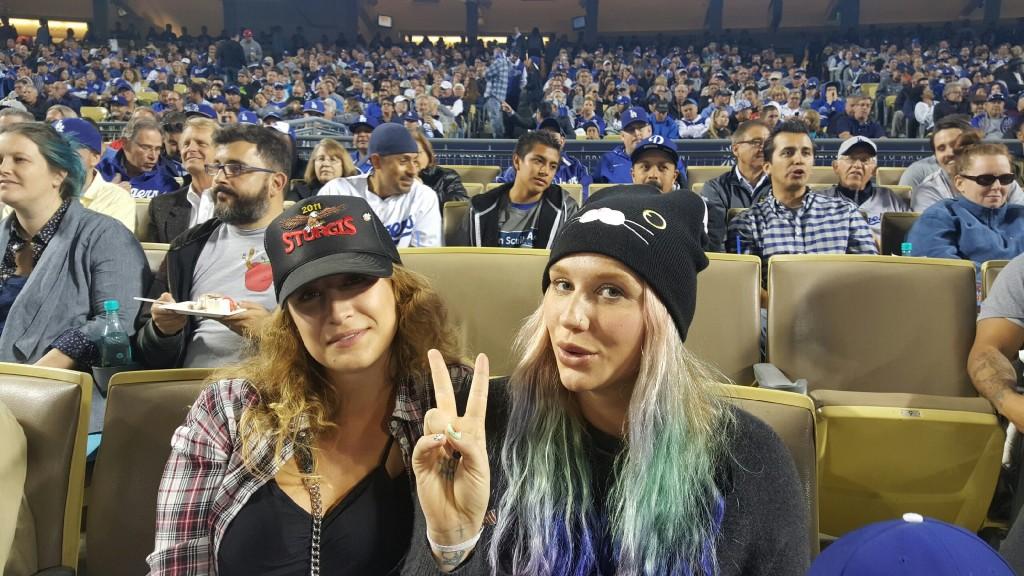 This past weekend, Hangover star and comedian Zach Galifianakis rang in Greek Orthodox Palm Sunday with a Passover twist at celebrity hotspot STK Atlanta.
Actor Geoffrey Arend was spotted at Dell & Alienware's "Virtual Reality Demos & Drinks" event at Lightbox in New York City on Monday, April 25. Attendees at the event were given an exclusive preview of never-before-seen virtual reality gaming demos.
Alessandra Ambrosio was spotted running errands, with son Noah, in Santa Monica on Tuesday wearing a Vintage Havana LaLa Land sweatshirt.
Looking better naked is the new black for actor, Jason Biggs. He has been spotted training 4X a week at DavidBartonGym Christopher Street in NYC.
NBC's Heartbeat star Jamie Kennedy visited the NBA Store in New York City to pose with the Larry O'Brien Championship Trophy.
Shadowhunters' Kat McNamara was recently spotted wearing DSTLD's Ripped Skinnies.
Ethan Hawkeenjoying drinks with David Bar Katz, Yul Vazquez and Marianne Jean-Baptiste at Strip House in New York City.
Borns performed at Discover Los Angeles' Pop-Up Concert at MOCA Geffen sponsored by KIM CRAWFORD Wine.
Restauranteur Abraham Merchant and Radeberger Brewmaster Udo Schiedermair celebrated the 500th anniversary of Reinheitsgebot at Treadwell Park on the Upper East Side.
LeesaSleep and ArtLifting's "Leesa Dream Gallery" event in SoHo was attended by supporting celebrities including NY Jets player Eric Decker and wife Jessie James, ANTM alum Xiomi Frans-Cuber, Poker Queen Beth Shak, Bravo's Tabasum Mir and Grammy Winner Bridget Kelly.
Orlando's NBA power forward center Jason Smith hung up his jersey and indulged beyond his regular eating habits at the Smokey Bones Bar & Fire Grill's charity eating challenge at its Sanford, FL
Actress and "McCord List" founder Rachel McCord (pictured below) was seen modeling for Grayse founder and designer Kelly Gray on a Sunset Blvd rooftop.