NEWS
Chris Harrison Says Bentley Williams "Has An Amazing Talent For Saying Nothing"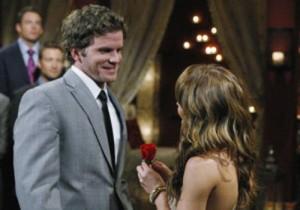 The Bachelorette host Chris Harrison is happy that Bentley Williams has made his final departure from the show, as is the rest of America. Chris opened up about Bentley's final goodbye and how happy he is that Ashley Hebert has moved on.
"I understand that many of you felt like this Bentley thing dragged on a little too long," Chris began in his weekly blog on Entertainment Weekly. "We actually would have loved to have put an end to this last week in Chiang Mai, but logistically that just wasn't possible."
Article continues below advertisement
He continued: "I did my best to give Ashley the ammunition she needed for her encounter with Bentley. I urged her to not let him be 'Bentley' again. Don't let him get away with talking for an hour, giving what I'm guessing he thinks is his sexy look and saying absolutely nothing meaningful. Turns out, that's exactly what he did."
Bentley flew half way around the world to Hong Kong to see Ashley again and talk about their "dot dot dot" relationship.
"The guy has an amazing talent for saying nothing in such a sincere way it's hard to tell you've actually just heard nothing," Chris said. "The good news is Ashley was prepared this time and called him on his nonsense and sent the dude packing. So the long and short of it is Ashley is good and Bentley is gone."
Article continues below advertisement
Ashley finally stood up for herself last night against Bentley and seems to have completely but his beguiling ways behind her.
She said sternly to the camera during last night's episode, "He disrespected me — like, to the core — and I don't understand what I ever did or what anyone could ever do to make someone treat them that way. You know what, Bentley? If you're watching this, f*** you. I'm done with you."
Are you happy Bentley is gone? Sound off in the comments.