NEWS
Christie Brinkley Staying Strong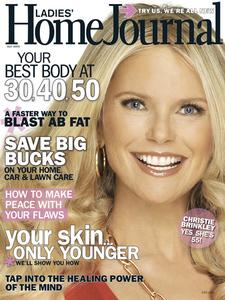 After a nasty divorce trial, it's no wonder Christie Brinkley isn't the biggest fan of tying the knot anytime soon... if ever.
"I would never get married again," she tells Ladies Home Journal in their July issue. "With what I know I don't see why anyone would get married."
But far from feeling sorry for herself about her split from Peter Cook, Christie is making amends to everyone else!
"I feel like I should apologize to everybody for them having to read all that tawdry stuff, and having it delivered to their kitchen tables when their kids are around," she admits.
Article continues below advertisement
Her marital troubles haven't put her off love entirely, but she does have a somewhat practical approach to romance.
"I totally believe in true love. And I think couples should celebrate their love over and over again," she says, adding, "In fact, right at the beginning of a relationship, I would formalize an exit strategy."
So will Christie be looking for love again anytime soon? Not until she's totally ready.
"I haven't always followed my own advice, but I've always believed that you've got to be whole before starting with someone new," she explains. "You've got to find that inner peace. I'd have to feel, 'Okay, the time is right to be open to that again."