NEWS
Christina Aguilera: Ready for Baby #2!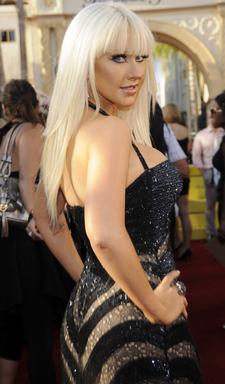 When asked what was the last thing her son Max did to surprise her, Christina Aguilera smiles and says, "He's a bundle of amazing surprises!" The star, who turns 28 on Dec. 18, and her husband, Jordan Bratman, want to add to their family because she says becoming a mom has been such a great experience. Christina, whose greatest hits album Keeps Gettin' Better is being sold exclusively at Target and target.com, spoke to OK! about her son, Max, who turns 1 in January.
Article continues below advertisement
Any plans for a sibling for Max?
I hope so. We definitely want to have another child. Having Max has been an amazing experience. He surprises e every day. In a year, he has grown so much, now he crawls and is starting to walk.
What makes your marriage work?
I have the most wonderful partner in Jordan. We make it a priority to work on our marriage. You have to take it seriously and respect each other and be a team. We always have date nights as well — it helps to keep the marriage alive after you have kids. My husband and I love to play board games together!
What advice would you give to the 20-year-old Christina?
I would have told myself that anything is possible because it is. Also, work hard and trust your instincts.
Why did you decide to exclusively sell your album at Target?
I had worked with Target in the past and I really loved the fact that they listened to me as an artist. I am very particular with my album, from the music to the photos to the ads. Target really allowed me to give my input and put my stamp on the campaign. I shared with them what my inspiration was and they let me run with it.
Article continues below advertisement
You've collaborated with Madonna before. She's another working mom, has she inspired you?
For so many years she has been such a great business woman and a model-type that broke so many boundaries and stereotypes for women, in this business in particular. She was the queen of criticism for her day and age and thank God she was the first to bare it all and she keeps going, so I support her 100 percent. She's a mom of three and still doing it, on tour. I'm having trouble gearing up for my tour just thinking about how it's going to be for Max, but we're a traveling family and that's just the way it's going to be.
Do you get nervous before you perform?
I think any good performer does as we want to give it our all for our fans. The biggest worry is living up to the fans expectations. But once you are on stage you let the adrenaline kick in.
What's your favorite song to sing live?
You can't ask me to pick — it's like asking which child is your favorite! They are
all very special to me. "Genie in a Bottle" was my break into mainstream, so I hold a place for it. And I think "Beautiful" is such an inspirational ballad.
If you had a genie in a bottle, like your song said, what would you wish for?
You know what, looking back, I wouldn't change a thing. I am really blessed.
For more of OK!'s chat with Christina, pick up the new issue — on sale everywhere now!