NEWS
Courtney Alexis Stodden, 16, Wants to "Wait a Few Years" for Kids With Doug Hutchison, 51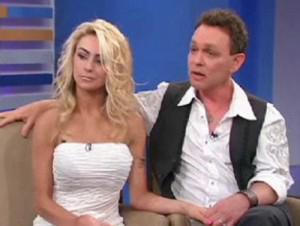 Courtney Alexis Stodden may have jumped into married life at the young age of 16, but the aspiring singer is not ready to be a mom just yet. Courtney infamously married 51-year-old actor Doug Hutchison earlier this summer, with her parents' blessing, despite the 35-year age gap. But she isn't entering mommy-hood anytime soon.
"She's making sure as much as she can at this time that it isn't happening," Courtney's mother Krista Stodden told Radar Online in an interview about her newlywed daughter. "She's on birth control because she would prefer to wait for children."
Article continues below advertisement
She added. "I think Doug would love to have children, but Courtney wants to wait a few years."
So why the wait?
"Courtney wants to work on her career," Krista shared, noting that "accidents do happen" and a new member to the family would still be a bonus.
"If something happens we do not believe in abortion, so if God blesses them that would be okAY, but they're not trying for a baby now," she says.
What does her mom think their child would be like?
"The baby would be so creative. Doug is brilliant, so creative and they both would pass on so many creative genes," Krista shared.
And for now, the newlyweds are focusing on "a lot of exciting projects" and their home life is "wonderful."
But don't expect Courtney to be taking on the role of a 1950s housewife!
"Courtney never showed any interest in cooking or cleaning, she always wanted a career so Doug takes care of all of the housework," Krista said. "He's so sweet, he's teaching her how to boil an egg!"