NEWS
COVER STORY: Exclusive Photos! Kourtney & Khloe Reveal Details of Kim Kardashian's Wedding!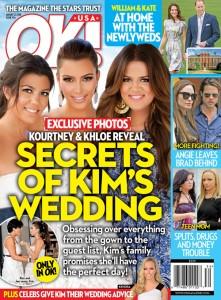 As the days dwindle down to just a precious few before Kim Kardashian's Aug. 20 wedding to Kris Humphries, the Kardashians are helping Kim with the finishing touches for her perfect day. After all, with a big family that's as close as this one, everyone has to be involved.
OK! EXCLUSIVE ACCESS: SEE PHOTOS OF KIM KARDASHIAN'S GORGEOUS BRIDAL SHOWER
Naturally, Kim is leaning heaviest on her beloved sisters Kourtney, 32, and Khloe, 27.
Article continues below advertisement
"Kim's so happy," Khloe joked to OK!. "Honestly, Kim is someone who has thought of her wedding from the day she was born."
OK! NEWS: JUSTIN BIEBER & SELENA GOMEZ INVITED TO KIM KARDASHIAN'S WEDDING, REPORT SAYS
Likely one of the most prepared and calm brides of all time, Kim has still kept her sisters involved in all of her plans. The girls have tasted wedding cakes with Kim, given their opinions on the menu and music, and chimed in on all the wedding attire.
MORE ON:
Kourtney Kardashian
CHECK OUT OK!'S GALLERY FROM KIM KARDASHIAN'S BRIDAL SHOWER!
Khloe, who planned her own 2009 wedding to Lamar Odom in just nine days, explains that Kim and Kourtney "were both my maids of honor, so Kim has to do the same for us." She has been a huge asset to Kim, both for her knowledge on which wedding experts to use and her upbeat but practical advice.
"If something goes wrong, just relax," Khloe has advised. "Marriage is about you and your husband, not the flowers or the guest list."
FOR MORE ON HOW THE KARDASHIAN SISTERS ARE HELPING PLAN KIM'S BIG DAY, PICK UP THIS WEEK'S ISSUE OF OK! — ON SALE EVERYWHERE THURSDAY!
ALSO IN THE NEW OK!:
Celebs' Advice for Kim: Reality TV stars like Kendra Wilkinson-Baskett and Trista Sutter have some great words of wisdom to help Kim through her big day.
Hot Story: Angelina Jolie leaves Brad Pitt behind! Tired of being ignored by Brad while the family is in London, a furious Angie has had enough.
Teen Mom: The cast's lives are turned upside down. Reality TV brought them fame, but for MTV stars like Amber Portwood and Maci Bookout, life is riddled with problems.
Prince William and Duchess Kate: Secrets of the royal couple's life together. William and Kate enjoy home-cooked meals, laughing over silly comedies and spending time alone.
OK! Countdown: Top 10 bad boys — and the girls who love them! From Charlie Sheen and Denise Richards, to Anne Hathaway and Raffaello Follieri, it started with declarations of love… but then came the tears.
Young Hollywood: Look how much they've grown! Stars like Selena Gomez and Demi Lovato have gone from child actors to Hollywood's A-list players.
Body & Soul: Check out some of the best bods on the beach! Think it's easy to look this good? think again! Here's how A-listers like Rihanna and Brandi Glanville stay in top shape!