NEWS
COVER STORY: Jessica Simpson — Having a Baby!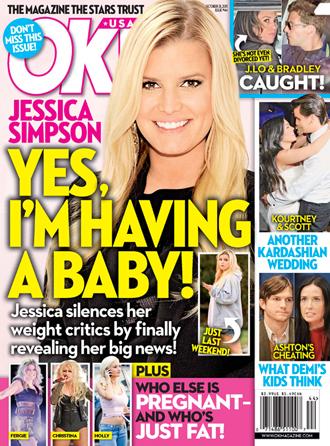 Dressed in a flowing striped maxi dress, a beaming Jessica Simpson smiled as she arrived for a baby shower at the Ivy at the Shore restaurant in Santa Monica. The performer, along with her mom, Tina; sister, Ashlee; and 2-year-old nephew, Bronx, was at the restaurant on Oct. 15 to celebrate childhood friend Stephanie McGuire Terblanche's impending motherhood — but that's not the only baby the Simpson clan is getting ready for! "Jessica is so excited," says a close friend, who confesses that Jessica has been slowly telling all her pals that she and fiancé Eric Johnson, 32, are becoming parents. OK! has the scoop in this week's issue, on sale everywhere Thursday!
Article continues below advertisement
OK! GALLERY: JESSICA SIMPSON IS ALL AGLOW IN LALA LAND
"She joked, 'Well, now I can eat anything I want and no one will care. It's just sort of a rule with pregnant women.' But it was typical Jessica that she was making a joke of it."
At 31, Jessica has learned to take life's little twists and turns in stride. Although she originally told her friends that she didn't plan to have a baby before she was married to Eric, to whom she became engaged this past November, the order of these happy events hasn't really mattered to her. Jessica is just delighted finally to become a mother.
OK! NEWS: JESSICA SIMPSON'S FIRST BABY — EVERYONE'S EXPECTING AN ANNOUNCEMENT!
FOR MORE ON JESSICA SIMPSON'S BABY JOY, PICK UP THE NEW ISSUE OF OK! — ON SALE EVERYWHERE THURSDAY!
ALSO IN THE NEW OK!:
Pregnancy News: Baby bump or big meal? An expert weighs in on the celebrity photos — like Uma Thurman's and Gwyneth Paltrow's — that everyone is talking about.
Jennifer Lopez: It's getting serious. In the wake of her painful breakup with Marc Anthony, J.Lo finds new love with movie star Bradley Cooper.
Article continues below advertisement
Demi Moore: What her daughters think: They adored Ashton Kutcher —now Demi's three grown girls cope with his betrayal.
Kourtney Kardashian: Kourtney is ready to marry Scott Disick in what promises to be the biggest party since, well, Kim's!
Beyoncé: Is she faking her pregnancy? A TV appearance fuels a firestorm of speculation that the singer's just pretending to be pregnant.
Jennifer Aniston: Jennifer and Justin Theroux fell in love with each other — and the charms of downtown New York. OK! takes you on a tour of some of their fave places!
Best Buds: These pals share everything: Not only do these A-listers share friendships, but they share romances too!