NEWS
COVER STORY: Kris Humphries Begs Kim Kardashian — Don't Leave Me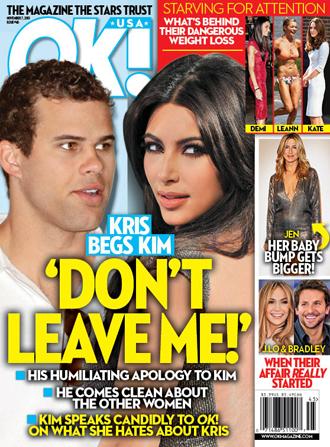 Kris Humphries ducked out of NYC's The Darby first — ahead of his wife, Kim Kardashian — not looking at anyone. "I noticed Kris didn't hold Kim's hand, which seemed strange to me," an observer at Kim's 31st birthday dinner on Oct. 21 tells OK!. His expression was troubled, perhaps because of the pressure Kim is putting on Kris, 26, to improve his behavior and his attitude.
"I used to clean up all of his stuff, but now I am like, 'Okay, you have got to get it together. You really have to pick up after yourself now,' " Kim confessed to OK! at Las Vegas' Marquee nightclub the following night. "That's been a challenge. He likes to be a little lazy, though he wasn't as lazy before."
Article continues below advertisement
When Kris and Kim were still dating, his sarcastic sense of humor also made her giggle, but it became no laughing matter once he started picking on her family, especially sisters Kourtney and Khloe.
"Kris has a mean streak," a confidante says. "He can be cruel, a jerk; he doesn't get that what he does has consequences and that people can have their feelings hurt. He says whatever comes to his mind."
Friends are concerned that the couple's union might not stand the test of time. "Kris is so different than the Kardashians," says one family friend. "I don't know what will happen. Kim may eventually realize that she rushed too soon into this marriage."
FOR MORE ON KRIS & KIM'S MARRIAGE, PICK UP THE NEW ISSUE OF OK! — ON SALE EVERYWHERE THURSDAY!
ALSO IN THE NEW ISSUE OF OK!:
Celebrity Weight Loss: Demi Moore's shocking weight loss. Tourtured over Ashton Kutcher's affair, she's literally starving for attention. Plus: Why Duchess Kate and LeAnn Rimes can't stop losing weight, either.
Article continues below advertisement
Blake Lively & Ryan Reynolds: These two are heating up the entire East Coast! From NYC to Boston, the A-list commuter romance gets steamier every day.
Jennifer Aniston: Jennifer Aniston is proud of her bump! The actress ignites more pregnancy buzz by showing off her curvy figure.
Britney & Christina: Still trying to be the sexiest: After a dozen years, Britney Spears and Christina Aguilera are still trying to top each other!
J.Lo & Bradley: Everyone's buzzing about Jennifer Lopez and Bradley Cooper's hot romance. But how long has she been seeing him?
Jessica Simpson: Parents-to-be Jess and Eric Johnson enjoy a romantic Palm Springs getaway. Plus, find out what other celebs are getting in on the babymoon trend.