NEWS
COVER STORY: Rob's Marriage Proposal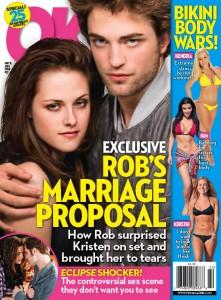 The news swept across the Internet and shocked Twilight Nation: In May, Robert Pattinson and Kristen Stewart had a fierce lover's quarrel that sent Kristen into a screaming tirade on the Vancouver set of The Twilight Saga: Eclipse, where cast and crew were re-shooting crucial scenes for the film.
The problem? The brooding Brit had missed his flight and showed up on-set a day late after being out until all hours partying at a London strip joint.
Article continues below advertisement
So, how did Hollywood's hottest young couple go from feuding to fawning over each other?
FIND OUT ALL THE DETAILS ONLY IN THE NEW ISSUE OF OK! — ON SALE EVERYWHERE THURSDAY!
ALSO IN THIS WEEK'S OK!:
Beach Body Wars: OK! pits the most famous physiques on our favorite reality shows against one another! Spencer Pratt and Brody Jenner! Audrina Patridge, Kristin Cavallari and Heidi Montag! The Kardashian sisters! Who will come out on top?
Sex and the City 2: As the much-anticipating sequel gears up to open, OK! takes a look at the NYC hot spots of Sarah Jessica Parker's Carrie Bradshaw! Plus, don't miss the the superfan guide to all things Sex and the City. Do you think you know all there is to know? Also, the stars of ABC Family's Make It or Break It don the styles of Carrie, Samantha, Miranda and Charlotte! Find out how to get the look.
Plus:
On the set of Adam Lambert's latest music video; Is there trouble in paradise as Britney Spears splits professionally from agent-beau Jason Trawick?; Get all the scoop on American Idol's final 3, Lee DeWyze, Crystal Bowersox and Casey James, from their families!; How to live like... glamorous Iron Man 2 star Scarlett Johansson; Find out about why Miley Cyrus is just the latest star to want to hang out with teen sensation Justin Bieber!; All the glitz and glamor from the Cannes International Film Festival; Lasting impressions with Chris O'Donnell!