NEWS
'Dancing With the Stars' Exclusive: Cheryl Burke on Premiere Night With Partner William Levy!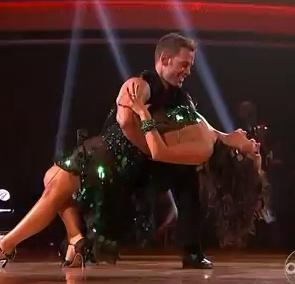 Cheryl Burke's take on the first night of performing on Dancing With the Stars with partner William Levy!
The performance tonight was amazing. It couldn't have gone any better. I thought getting three 8s would be amazing — and the fact that we got three, it's totally surreal. The level of competition has just been incredible, and it's definitely the best first show we've ever had in Dancing With the Stars' history. It's incredible.
Article continues below advertisement
William and I have this mutual respect for each other. I mean, he is hot, yeah, but I have to look past that or else we won't get work done. So at the end of the day, I really have to just think about making him the best dancer possible. Obviously, the chemistry is natural, but at the end of the day, good looks can only take you so far.
We started rehearsals a week late, so there was no time for the honeymoon phase. It was just straight into work and teaching the choreography. Normally, I am able to teach basics and all of that, but we had no time, so I had to really showcase what he does best and put that into the routine, which was obviously to move his hips.
As for the judges, I was scared of Len because I thought he would criticize us for being too sexy, but he did think it was a good balance. I did try to put in enough basics and just made some parts sexy as opposed to the whole thing being just raunchy.
Next week is really going to be the week where he'll either be an all-around great dancer or he'll just be good at the Latin dances. It's all about the journey and if you can do both the ballroom and the Latin. Next week we have the quickstep, which is different, obviously elegant and sophisticated, so you never know.
Everyone this season is so good, it's just so hard. So I am just focusing on my partner and what I can do to make him a better dancer.
I think William being so hot is to our advantage with our fans voting. Hopefully the women call and pick up the phone because we do need their votes because at the end of the day, William may not be as known here in the American market, so that definitely helps.
For more moment-to-moment updates, photos and insights follow me Twitter on @CherylBurke!