NEWS
The Darker Side of Zac Efron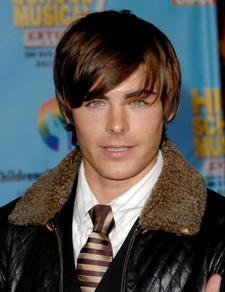 While many people, celebs included, wait until after the New
Year to get a new hairstyle or change their look, OK! has learned that High
School Musical hunk Zac Efron, without on-off-on girlfriend and co-star Vanessa
Hudgens, was at the Neil George Salon in Beverly Hills
on Monday, getting a jump on his New Year's resolution with a cut and color.
Except, from what salon insiders tell OK!, the new hairstyle wasn't exactly the
Article continues below advertisement
Hairspray star's idea.
"He was getting his hair cut for a production," one witness reveals
to OK!. "And the producers were making him color it. Someone from the
production was with Zac, guiding the stylists through it." According to
the witness, they even brought a color sample — a darker brown than fans are
used to seeing on the young star's adorable head — that they're trying to
match.
With the addition of a last-minute low-light job, the 20-year-old spent nearly
four hours in the salon getting color happy and, during his time in the chair,
bumped into famous patrons Michelle Trachtenberg, telling her he can't wait for
the Buffy the Vampire Slayer movie, and Melanie Griffith, with whom he had a
brief and seemingly vocab-challenged exchange.
"She said, 'You're sooo cute.' and Zac responded, 'You're
cute too!'" a witness tells OK!. "And Melanie said, 'No, but you're so
Article continues below advertisement
entertaining!' and Zac said, 'You're so entertaining too.' After Melanie walked
away Zac said, 'Wow! That was so cool!'"
Not cool was the dearth of guy-friendly reads, forcing Zac to ask, "Don't you
have any magazines for guys to read?" The answer was "no" and the triple threat
passed time thumbing through women magazines, but don't read too much into
that.
"He was really cute, nice and not pretentious at
all," the source adds. "I don't think he's gay either."
As of Monday night, Zac hadn't gone public with the new, darker 'do, but OK! is just dyeing for a peek!