NEWS
David Arquette on Courteney Cox: "We'll Be Together Forever"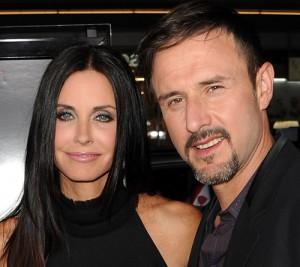 Promoting Scream 4 may be just what Courteney Cox and estranged husband David Arquette need to mend their relationship. But according to David, who chatted with OK! and other reporters at the Hollywood premiere of the hit film franchise, there isn't much to men and Courteney is not getting rid of him!
When asked how his relationship is with Courteney, David told reporters things could not be better.
Article continues below advertisement
"We're in this movie together! We love each other," he gushed. "We're a family. We'll be together forever whether we're married or not!"
As for reuniting with the whole Scream gang, David said it feels like home.
"It's great. I love these films. I love playing the character, Dewey, and acting opposite Courteney, and acting for Wes Craven, and acting opposite Neve Campbell and all of the new cast," he shared. "It's just been great. I love the franchise. I love being an audience member and watching it, and laughing, and being scared."
Reporting By Elizabeth Rosselle