NEWS
David Beckham Jokes: "I Have to Keep Playing" to Afford Baby Harper's "Unbelievable" Wardrobe!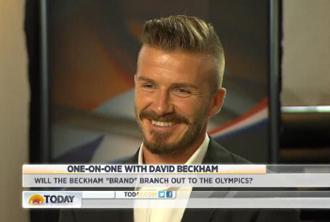 David Beckham is a hard worker. Whether he's breaking a sweat on the soccer field, appearing in Burger King commercials or modeling underwear for various brands, David knows how to keep busy.
But his most important job is being a husband to wife Victoria Beckham and a dad to their four kids, Brooklyn, Romeo, Cruz and baby girl Harper, something he says keeps him motivated.
OK! GALLERY: DAVID BECKHAM'S DAUGHTER HARPER STICKS HER TONGUE OUT AT THE PAPARAZZI
Article continues below advertisement
So what's his next goal? David wants to play for Great Britain's soccer team at the London Olympics this July.
"I would love to be on the Olympics team," David told The Today Show's Meredith Vieira in an exclusive interview that aired this morning. "I'm very proud of what I've achieved in my career so far. I've obviously played for the national team for quite a few years, and now I want to represent the G.B. team in the Olympics."
And although a lot of critics have been saying if he makes the team, it's only because of his celebrity status, David admits he shuts out the noise.
"I don't really take too much interest in those kind of comments," the soccer stud revealed. "But I have said that I felt that those comments are disrespectful, because I've had kind of a successful career with what I do."
The reason David is so motivated to remain successful is for the well-being of his kids, who inspire him to work harder each day. Especially his little girl Harper, who David admits is a mini Victoria.
Article continues below advertisement
I'm totally wrapped around her finger," David gushed, smiling. "The moment she was born, I think me and the boys, we were all done."
OK! NEWS: DAVID BECKHAM SHIRTLESS & WET FOR THE JULY ISSUE OF ELLE UK
"Her wardrobe is unbelievable. It's amazing," the doting dad added, explaining why she's just like her fashion mogul mama.
"I think that's why I have to keep playing!" David joked about affording his daughter's clothes and accessories.