NEWS
David Carradine's Death May Be Accidental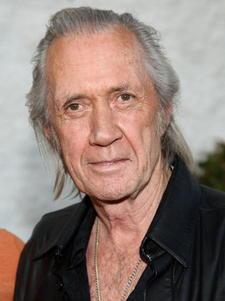 While early reports out of Thailand, where David Carradine died in his hotel in Bangkok yesterday, indicated that the star committed suicide by hanging, officials are now working with a new theory of accidental asphyxiation or suffocation.
The police tell reporters that an auto-erotic sex game might have gone wrong, resulting in David's nude body being found with cords around his neck and genitals. Officials say they found no evidence of a struggle, which means he may have tied himself up or consented to being tied up.
Article continues below advertisement
"It is unclear whether he committed suicide or not or he died of suffocation or heart failure," Lt. Gen. Worapong Chewprecha of the Royal Thai Police told reporters. The results of the autopsy are expected to be released on Saturday.
David's manager adds that his hands were found tied behind his back, TMZ reports.
DAVID CARRADINE REMEMBERED:
Those close to David have been denying the suicide angle ever since he was found.
"All we can say is, we know David would never have committed suicide," Tiffany Smith, a spokeswoman for Carradine's agents Binder and Associates, told the Associated Press. "We're just waiting for them to finish the investigation and find out what really happened. He really appreciated everything life has to give . . . and that's not something David would ever do to himself."
Police haven't ruled out the possibility of murder, but haven't found any evidence of anyone else in the room before his death.
Though he'd worked on dozens of films and TV shows, Carradine is perhaps best known for his role in '70s martial arts series Kung Fu and its '90s reincarnation Kung Fu: The Legend Continues. More recently, he was nominated for a Golden Globe for playing the title role in Quentin Tarantino's Kill Bill movies.