NEWS
David Cross Hopes To Arrest His Development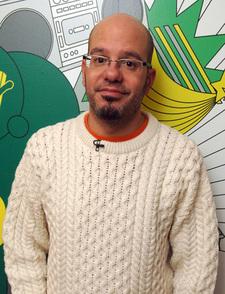 In his newest film, Terra, David Cross embarks on a territory that is not often traversed in animated alien flicks, the gay robot.
He tells OK!, "I got contacted by the filmmakers and it doesn't happen that often that you get that kind of call. We talked on the phone and it sounded like a cool project."
He continues, "The filmmakers had the idea. It's exciting to be able to do an openly gay android. It was pretty cool. My character is gay and I wanted to open up that world and represent the homosexual guy in the dark."
Article continues below advertisement
But his role is far from comedic. He describes the character as the voice of reason. That's quite a departure from some of his other forays into the homosexual character world.
The funnyman is familiar with playing gay-ish characters. He famously and lovingly played Tobias Fünke, the ambiguously gay uncle on Arrested Development for three seasons. And if David has his way and the rumors pan out to be true, he could be playing him again in the film adaptation of the show.
"I mean I've talked to Jason Bateman and I've exchanged some emails, but I don't know that practicality of the situation is. I have no idea. I don't think anybody wouldn't do it. I think everyone would come back and do it."
David also recently played famed beat poet Allen Ginsberg in Todd Haynes critically acclaimed biopic I'm Not There. "I would have played anything that Todd Haynes wanted me to do. I was very happy to be involved," he said.
It was a role that David says he was honored to play, but admits he got a little help for the role. Spoiler alert: That wasn't really David's own beard. "It was interesting," he said, "I don't think I nailed his voice but I think…well I think I got the beard right. But I need to admit something. I'm going to credit it to a proxy beard!"
By Jocelyn Vena