NEWS
David Hernandez is the First Finalist to Fall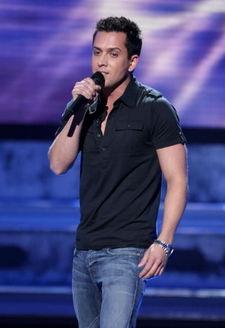 American Idol's most controversial contestant, David Hernandez — whose past as a male stripper and lap-dancer came to light during the semifinals — was eliminated from the show after his Beatles tune wasn't so fab.
On Tuesday night, judge Simon Cowell ripped apart David's rendition of "I Saw Her Standing There," calling it "corny verging on desperate... like a rabbit in the headlights." And America apparently agreed, making the Arizona-native the first finalist to be eliminated this season.
Article continues below advertisement
But David appeared almost defiant in leaving the hit Fox show, telling TV viewers, "You'll see me at the top. This isn't it for me."
In fact, David recently shared his strong ambition with OK! at the American Idol top 12 party. He said he had other interests besides singing: "I like acting. I would love to start a clothing line and a fragrance line. I like all that stuff that's related to entertainment."
After the show was over, David was consoled by Paula Abdul, who held his face in her hands and gave him a kiss. Randy Jackson and Simon also were there with hugs and words of advice.
By Carole Glines