NEWS
This Day in Hollywood History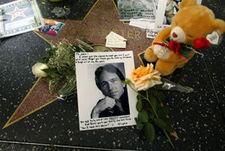 Sept. 11, 2003
R.I.P. John Ritter.
The endearing comedian, who rose to fame as klutzy ladies' man Jack Tripper on Three's Company, passed away four years ago from an aortic dissection.
John, six days away from his 55th birthday, collapsed while running lines with close friend Henry Winkler on the set of his now-cancelled ABC sitcom 8 Simple Rules for Dating My Teenage Daughter. Taken to Providence St. Joseph Hospital -- the same one he was born in -- the star underwent heart surgery, but ultimately died from an undetected tear in his aorta.
Article continues below advertisement
News of his death shocked the community and threw his show for a loop as John only had three episodes in the can for the new season. With blessing from his wife, actress Amy Yasbeck, ABC decided to blaze on and revamp the storyline.
"He believed in this show and its message that a strong family can get through anything," Amy said.
After airing a successful tribute to John, John Ritter: Life of Laughter, and the first three episodes in September, the Alphabet returned for November sweeps with an hour-long episode titled "Goodbye," in which John's Paul Hennessy dies suddenly while shopping for milk. Twenty million viewers tuned into the very special episode, making it the show's highest-rated episode ever.
So beloved the actor was that he received a posthumous Emmy nomination the following July, losing to Kelsey Grammer, and his character came in at No. 48 on TV Guide's list of 50 Greatest TV Dads of All Time.
To "replace" John, ABC brought on two TV vets, James Garner and David Spade, and the show lasted another season.
During that time, his family filed a wrongful death lawsuit against Providence St. Joseph for misdiagnosing his aortic dissection as a heart attack. A temporary settlement was reached last year.
A day after his untimely death, Hollywood lost another icon -- Johnny Cash, whom John's musician-dad Tex had written songs for decades earlier.