NEWS
Demi Lovato & Justin Bieber Making Sweet Music Together?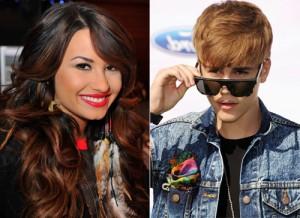 Watch out Selena Gomez — BFF Demi Lovato wants a piece of your man Justin Bieber — in the recording studio! According to some cryptic Tweets, Demi and Justin may be working on a duet together for Demi's upcoming album!
Demi is also recording with artists Timbaland and Sebastian, who Tweeted this morning; "Wow we had some special guests stop by in the @ddlovato session today. Could it be a super duet in the process. Stay tuned!"
Article continues below advertisement
Demi's special guest was recording with her at a studio in Miami this morning!
So how does the Bieber connection work?
One of Sebastain's followers made the guess that Justin was the one doing a duet, and Sebastian Tweeted back; "@AndreaLovesSwag u said justin bieber that is a very very good guess."
Justin was in attendance at Selena's concert in Boca Raton last night, only about an hour from Miami, so it all adds up!