NEWS
Did John Mayer Come Between the Two Taylors?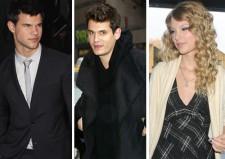 Before Christmas, Taylor Swift told Taylor Lautner those dreaded words. "She said she just wants to be friends," a source tells OK!. But could John Mayer have been a contributing factor?
Swift had been planning on waiting to break the news to Lautner until after the holidays, but when he gave her diamond earrings at her 20th birthday party on Dec. 13 she couldn't put it off any longer.
"She could no longer lead him on," says the source. "She feels she needs someone more mature."
Article continues below advertisement
One option is John, who caused some tension between the Taylors last month when he asked Swift to sing on his single, "Half of My Heart."
"John's dad is telling everyone John has a thing for Swift," a pal tells OK!, but she's not interested.
As for Lautner?
"He's devastated," an insider says.
He's still "holding out hope" for a reconciliation, a source adds.