NEWS
Donald Trump Calls Rosie's Bluff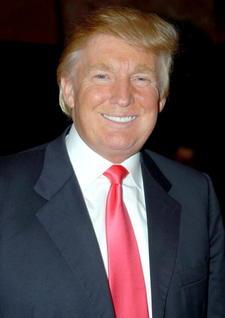 The Donald is back! After a nine-month hiatus and some star-power infusion, The Apprentice returns tonight with Donald Trump taking in celebrities under his wing in a much-anticipated new season. One person who won't be watching is his nemesis, Rosie O'Donnell.
"I think not," she says sternly while responding to reader mail in a video blog.
That's just a bluff, though, Donald believes.
"She'll be watching," he says on The Morning Show with Mike and Juliet after being shown the video. "She won't say that she's watching, but she'll watch it."
Article continues below advertisement
The 61-year-old mogul came to blows with the opinionated ex-talk-show host after she chastised him for pardoning the former hard-partying Miss USA, Tara Conner. Their feud played out in the media early last year, but Donald says that's just because they were egged on to do so.
"I'm here to talk about The Apprentice and you show this unattractive woman on the television and you say you think I play it up too much!" he laughs.
Talk did turn to the reality show, in which such stars as Gene Simmons, Stephen Baldwin and Olympic gold medalist Nadia Comaneci will compete. Also among cast — season one bad girl Omarosa Manigault-Stallworth, who, after undergoing breast enhancements, has "aged beautifully."
"Omarosa changed a little bit," Donald says coyly. "She got a little heavier. She's fuller."
Helping him in the boardroom will be his business-savvy children, Ivanka and Donald Jr., who made Donald a grandfather last year with the birth of his daughter, Kai Madison. Being a grandfather isn't that much different than being a father for Donald — his son Barron, 21 months, is just a year older than Kai.
"Barron is one of the youngest uncles in the world — he's like one month older," he jokes. "Barron is Uncle Barron. Right now, neither can speak. You put these little babies together and it's like one of those things. I always think of uncles — they were 70! They were old. Barron is on the young side."
The Celebrity Apprentice premieres tonight at 9 p.m. on NBC.