NEWS
A Double Dose of Lohans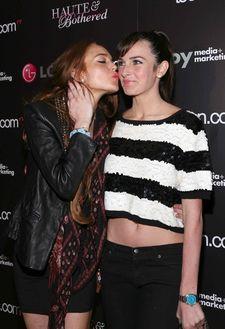 Monday night I made stops at two parties and was two steps ahead of the Lohans and two steps behind Chris Evans at both.
First on the agenda was Teen.com TV's premiere party for their original series Haute and Bothered hosted by LG Mobile at Sunset Towers. The first person I saw when we walked in was Fantastic Four hottie Chris Evans. He was at the bar getting drinks for his friends. Lindsay Lohan made a grand entrance near the end of the intimate soiree with her sister Ali at about 10:20pm, Despite a girl next to me saying, "I wish she'd do something crazy, like jump into the pool' Lindsay was on her best behavior, just sitting at a table with her latest party companion, her 15-year-old sister Ali. There's speculation whether the little Lohan should be at bars at all, but when I hit the ladies room on the way out I overheard the following bathroom chatter which proved Lindsay's doing her best to keep her younger sibling in line with 'rules.'
Article continues below advertisement
Ali Lohan: You're such a (expletive)
Lindsay: What did you say?
Ali: Huh?
Lindsay: That word, that word, what was that word you just used?
Ali: Biatch.
Lindsay: We don't use that word. We're not to say that word. It's one of the rules.
I left the ladies room before hearing Ali's response to head to NYLON Magazine's Young Hollywood party at Hotel Roosevelt's Tropicana Bar. Chris Evans was in the valet line in front of me and drove his friends to the same party in his Lexus.
Unlike the more relaxed atmosphere of the first party, NYLON's poolside shindig was so crowded I was shocked no one had been pushed into the pool yet. Lindsay and Ali arrived at the party five minutes after me. Within an hour I'm told Lindsay was 'full-on making out with Jared Leto." When I saw Jared my friend got nostalgic, recalling his days as Jordan Catalano on "My So-Called Life." In the years since as the former pretty boy actor morphed into a rock star fronting "30 Seconds to Mars" his hair has morphed to mostly blond. Kelly Osbourne showed up at the party newly blond too. Those are two blondes I think are more attractive as brunettes.
Article continues below advertisement
Other highlights:
-There were several Robert Pattison spottings – although it didn't take long to figure out their source was an eerily similar-looking impersonator. Rob's real co-star, Kellan Lutz, was at the event and overheard telling actress Azita Ghanaziada he's been busy 'filming Twilight 2.'
-While I was standing outside the VIP Room 100, Jonah Hill politely asked me if he could go in. I told him, "Enter my office, I'll be right in." Not sure what provoked me to say that, but when he came out he said, "You never came in."
-An episode of "The Hills" was being filmed poolside. The lighting and cameras surrounding the table made it looked natural, really.
-Brent Bolthouse kept the energy high spinning a mix that included a lot of 80s, always a favorite ;) xo