NEWS
Drew Lachey's War Dance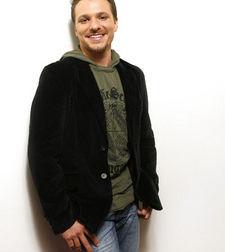 Talk about a career-making move! Former 98 Degrees band member Drew Lachey, who strolled off with the gold on Dancing with the Stars in 2006, will host a new ABC show Dance War: Bruno Vs. Carrie Ann, beginning Jan. 7. The six-week show will pit two groups of dancing and singing contestants—coached by DWTS judges Bruno Tonioli and Carrie Ann Inaba—against each other.
Drew got his feet wet as a host by subbing for Samantha Harris for a few weeks while she was on maternity leave on the just-concluded season of DWTS, but admitted to our own Los Angeles TV scooptress, Carole Glines, that his new gig is gonna be soooo different.
Article continues below advertisement
"Dance War is going to be a handful, to be perfectly honest," he revealed. "I'm a little scared about what I'm going to have to do to keep Bruno and Carrie Ann from killing each other. But it's going to be a lot of fun. We have these raw talented people, these young singers and dancers who are going to put their heart and soul into everything they do for America to judge, and it's this amazing journey that they've already started to take through the audition process."
No worries that Drew will be on the mic doing an imitation of reality TV's most famous host, American Idol's Ryan Seacrest. "Ryan's got his thing and I'm not trying to do anything like that. I'm just trying to be me and if people like it, cool, and if not, I guess I'll be looking for another job," he laughed.
With that kind of humor, who wouldn't love yah, Drew?
Dance War: Bruno vs. Carrie Ann premieres Jan. 7 at 9 p.m. on ABC.