NEWS
DVR THIS: Make Me A Supermodel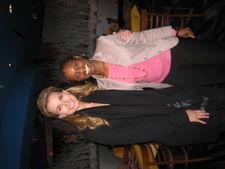 If TV has taught me anything, it's that everyone needs mentor, even models. Niki Taylor and Tyson Beckford are sharing the secrets to their signature runway struts as hosts of Make Me a Supermodel – premiering tonight on Bravo. The duo are guiding 14 guys and gals from across the country and giving them the chance to be the next big thing on the catwalk. But the judges for these would-be supermodels aren't the only ones deciding their fate. That's right! We, the devoted viewing audience, get to vote for who goes to the next round!
Article continues below advertisement
I caught up with Niki and Tyson as they prepped for the show's first photo shoot outside in New York City's Times Square – on the coldest day of the year so far. "Talk about a rude awakening: 'Welcome to your first photo shoot,'" Niki says.
That's probably a good thing since I've learned that some of the competitors have already copped a bit of an attitude before the show has even had a chance to air! "I'm the squasher of that," Tyson laughs. "I'm the Simon Cowell of this whole show. They've already said they don't want to do certain things, and I'm like, 'Wait a minute, you've got the opportunity of a lifetime. You don't have to go on no go-sees like I did. You're basically on a pedestal in front of America. If I had that opportunity and they said go put that thong on and this purple wig, it'd be, 'What time do you want me to do this?'" Niki agrees. "One thing Tyson and I want to do with these kids is keep them humble because it's a different generation than when we modeled. Kids can be spoiled these days. They got to learn to work for it."
Well, these kids are learning from pros in the know, which means they shouldn't make the same mistakes Niki and Tyson did when they started off their careers. "I'm just naturally a clumsy person," says Niki. "Anytime I was on the runway, I would twist my ankle in the shoes or trip." As for Tyson, it's all about the moisturizer since he once showed up at a shoot without it. "I was being told to strip down to my underwear, and it was, 'damn, I got no lotion on my feet!' Now I walk around and keep my lotion in my bag."
Smart lesson for all of us, even if we aren't getting photographed!
Make Me a Supermodel premieres Thursday, Jan. 10 at 10 p.m. on Bravo.