NEWS
Eddie Murphy Talks Career in New 'Rolling Stone': "Trying to do Some Edgy Stuff"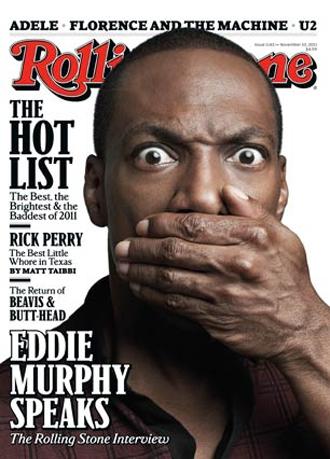 Eddie Murphy has learned from the past and knows what he wants for his future career. While it doesn't include more family movies, he is considering going back to stand-up and looking forward to his Oscar-hosting gig.
In the new issue of Rolling Stone, Eddie is sounding off on how he only wants to do things he actually wants to do for his career now.
So, don't expect to see Eddie in a family movie anytime soon.
Article continues below advertisement
"I don't have any interest in that right now," he says. "There's really no blueprint, but I'm trying to do some edgy stuff. And I only want to do what I really want to do, otherwise I'm content to sit here and play my guitar all day. I always tell people now that I'm a semiretired gentleman of leisure, and occasionally I'll go do some work to break the boredom up."
He may, however, return to stand-up, which he last did in the late 1980s.
"If I ever get back on stage, I'm going to have a really great show for you all," Eddie says. "An hour and a half of stand-up and about 40 minutes of my sh***y band... But I haven't done it since I was 27, so why f*** with it? But that's just weighing both sides. It comes up too much for me to not do it again. It's like, when it hits me, I'll do it, eventually."
For now, Eddie is looking forward to hosting the Oscars and proving to people that he doesn't hold a grudge for losing the best supporting actor award to Alan Arkin in 2007.
"Alan Arkin's performance in Little Miss Sunshine is Oscar-worthy, it's a great performance. That's just the way the s*** went. He's been gigging for years and years, the guy's in his seventies. I totally understood and was totally cool," Eddie explains. "I wasn't like, "What the f***?" I didn't have sour grapes at all."
"That's another reason I wanted to host the show — to show them that I'm down with it."