NEWS
Election Night Hits & Misses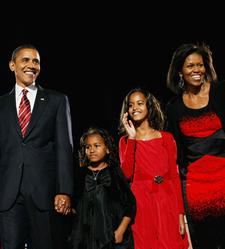 Whether your candidate won last night or lost, there were many moments that led to a memorable election night, the good, the bad, and the just plain weird.
Election Night Hits
Barack Obama's victory speech: The country (and maybe the world) seemed to be holding its breath for the long minutes between when Barack Obama was announced the president-elect, and when he finally took the stage to address the nation.
Article continues below advertisement
"In this country, we rise or fall as one nation, as one people," he said. "Let's resist the temptation to fall back on the same partisanship and pettiness and immaturity that has poisoned our politics for so long.
John McCain's concession speech: The Republican candidate's bow-out was graceful, sincere, and very supportive of the new president-elect, showing that John McCain truly is dedicated to America.
"In a contest as long and difficult as this campaign has been, his success alone commands my respect for his ability and perseverance," McCain said."But that he managed to do so by inspiring the hopes of so many millions of Americans who had once wrongly believed that they had little at stake or little influence in the election of an American president is something I deeply admire and commend him for achieving."
Article continues below advertisement
Oprah crying in the crowd in Chicago: The daytime diva proved she wasn't all talk about her dedication to Obama and the country, as the camera repeatedly showed her tear-streaked face, caught up in the moment.
"I am just so happy now. I was saying to people 20 months ago, 'You don't want to be on the wrong side of history,' " she told Extra. "I would have lost my soul if I had not stood up for Barack Obama and it was worth everything for me to do it."
Joe Biden's mother, the Obama kids on stage: Family was everything last night, as not only did Obama's girls Malia and Sasha join their dad on stage, Joe Biden's 90-year-old grinned with joy for her son.
Election Night Misses
CNN's hologram reporters: Straight from Star Wars, CNN's reporting "via hologram" was a weird addition to their coverage and definitely a big miss. Even hip hop artist will.i.am showed up as a hologram with a purple border to talk about nothing much, confusing viewers and causing a lot of laughs.
Michelle Obama's dress: So the future first lady is usually very-well dressed, prompting comparisons to Jackie O, but last night's red and black number with a strange cross section and tummy-widening effect hasn't been so well received, You win some, you lose some!
California voters pass Proposition 8: A ban on gay marriage will most likely be voted into effect after all the final ballots are counted, reversing the order that allowed same-sex couples to wed just a few short months ago. Now that's the kind of change we don't want to believe in.