NEWS
Estelle Getty Dies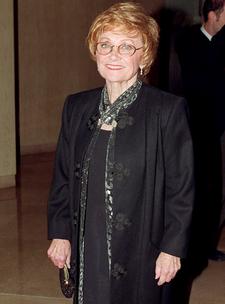 Estelle Getty died Tuesday morning after a long battle with dementia. She was 84.
The Emmy-winning Golden Girl passed away in her Los Angeles home at 5:35 a.m., her caregiver, Paul Chapdelaine, announced on her Web site.
"Sadly, today July 22, 2008 at 5:35 a.m. Pacific Time, we said our last good-byes to our little friend Estelle, who passed away and made her journey to the great beyond. Although it was a trip that she never wanted to take, she went gracefully, in the comfort of her own home, surrounded by her family and her very loving care-givers.
Article continues below advertisement
"Estelle's legacy will live on and on through the comedy and laughter she gave to us all, which will forever keep us laughing out loud.
"For us here, who have known and cared for her for so many years, we've lost our dear little friend who always kept us entertained by filling our days with joyful laughter. Estelle's fans across the globe have lost the feisty little lady known as Sophia Petrillo, whose quick wit, cutting remarks, and outrageous punch lines will forever be quoted and remembered.
"Estelle was a fighter. She always stood up for the underdogs, fought for equality for all, and always pictured a world filled with "Love and Laughter" --her most favorite catch phrase.
"Estelle, we love you and will miss you dearly. We pray that you are met at the Pearly Gate with open arms and a warm welcome by all who have passed before you. If there's a stage over there, I know you'll be on it. If there's a thrift shop, I know you'll be shopping, and if there's a deli, I know you'll be eating there holding court with Rhoda and Sylvia ... and the laughter will be heard throughout the heavens.
Article continues below advertisement
"Goodbye, dear friend. Thank you for all the talent and love that you've shared with us during your time here on Earth. You have touched my life, and the lives of so many others who will never forget you."
The actress, who would have turned 85 on Friday, retired from acting at the turn of the century after being diagnosed with Lewy Body Dementia, which was previously incorrectly diagnosed as Parkinson's Disease and Alzheimer's.
Her frail state prevented her from participating in a 2003 Golden Girls reunion.
Born in New York City, Estelle got her start Broadway before landing her most famous role to date as the acerbic Sophia Petrillo on The Golden Girls in the 1980s. She won an Emmy and a Golden Globe for her portrayal.
Estelle was married to Arthur Gettleman, who passed away in 2004, and is survived by her two grown sons, Carl and Barry.