NEWS
Final 'Harry Potter' Movie to Be Released in Two Parts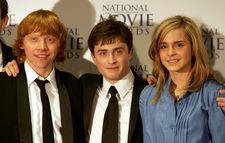 Attention Harry Potter fans! There may be only two books left to translate to the big screen, but there will be three movies released.
On Thursday, Warner Bros. announced that the final 'Harry' film, (based on the seventh and final book, Harry Potter and the Deathly Hallows) will be released in two parts.
Part one of the final film will debut in 2010, to be followed months later by part 2.
In a statement, Warner Bros. President Jeff Robinov said, "We feel that the best way to do the book, and its many fans, justice is to expand the screen adaptation. The Deathly Hallows is so rich, the story so dense and there is so much that is resolved that after discussing it with Jo (J.K. Rowling), we came to the conclusion that the two parts were needed to do it justice."
Article continues below advertisement
The movies (the sixth is in production now) are based on British author J.K. Rowling's best-selling fantasy novels about the adventures of boy wizard Harry Potter and his friends, as they grow into maturity at the Hogwarts School of Witchcraft and Wizardry.
Deathly Hallows, the much anticipated final book in Rowling's series, was published last July, selling 11.5 million copies in its first 10 days — in the U.S. alone.
The final volume is more than 750 pages, filled with several twists and turns as Harry and his friends, Hermione Granger and Ron Weasley take on the evil Lord Voldemort for the last time.