NEWS
Friends Fear Bachelorette Ashley Hebert Is In Trouble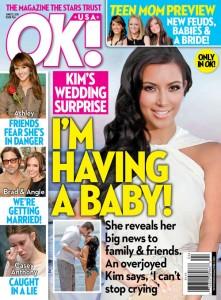 After being dumped by Brad Womack on The Bachelor, Ashley Hebert's friends are terrified the new Bachelorette is set for more heartbreak. The dental student, 27, so far has "zeroed in on the biggest sleazebags in the group," says one pal in the new issue of OK! — on sale everywhere now!
This season's controversial suitors include West Lee, 30, the South Carolina attorney whose first wife, Sarah Young, drowned in a bathtub in 2007. Sarah's mom, Dianna Sapp, has sensationally accused West of having "something to do with Sarah's death," despite local police saying West is in the clear, along with his mom, Debbie Lee, who tells OK! "my son is innocent."
Article continues below advertisement
Debbie insists the "love and devotion my son continually gave Sarah" would make him a great catch, but Ashley's friends aren't so sure, telling OK!: "The last thing Ashley needs is another drama."
Liquor distributor Tim McCormack was slurring when he first met Ashley, but she let him stick around — and even agreed to a one-on-one date with him. Amazingly, even when he couldn't speak during that interaction, Ashley tried to help by bringing him water. Only after she found him passed out and snoring did she finally kick him to the curb. "Ashley is a very sweet girl," says the pal. "It's pretty hard to watch."
Villain alert! On the premiere, single dad Bentley Williams was clearly unhappy when he found out the Bachelorette was Ashley and not Emily Maynard — but he still went ahead and charmed Ashley into giving him a rose anyway. (This, despite the fact that friends had warned Ashley he was only in the competition to promote his company.)
Article continues below advertisement
Too bad Ashley's willingness to give him a chance didn't win Bentley over: "She's just not my type," he says later. "I'm going to make Ashley cry…. I couldn't give a s*** about her."
Most women run from men in masks, but not Ashley! When Jeff Medolla told her he "wanted to take my face out of the game" she was intrigued enough to let him stick around. But friends are concerned that she's keeping yet another shady character in the mix. "It's as though she can sense that they're jerks and she desperately wants to win their approval," worries the pal.
FOR MORE ON THE BACHELORETTE ASHLEY, PICK UP THIS WEEK'S ISSUE OF OK!- ON SALE EVERYWHERE NOW!