NEWS
George Clooney: The Last Great Movie Star?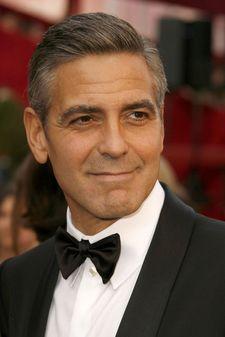 In his new movie, Leatherheads, George Clooney pulls double duty -- both starring in and directing the film.
"It's infinitely more rewarding... directing than acting," the actor says. "I love acting. It's a great job. It's the main way I make my living, but I really do enjoy directing."
Extra sat down with the hunky heartthrob, who revealed that despite his long hours in front of and behind the camera, he still -- in typical Clooney style -- managed to make time for a little fun.
Article continues below advertisement
Of trying to pull a prank on co-star John Krasinski, George says, "I did try to talk him into the idea that we were all going to wear top hats and tails for the premiere because I just wanted to see him show up in a top hat and tails," the actor laughs. "But he didn't bite, so I have to try a new one."
Speaking of top hats and tails, George is also spilling the beans on his Time cover, which refers to him as "The Last Movie Star."
"For the other 40 great movie stars that I ran into that night at the Oscars, that was good fun," he says. "I look over to Jack Nicholson and he's like, 'Hey man, the last great movie star, huh?' I went, 'I know, I know. Sorry.' It was embarrassing."
Then there's good friend Tom Cruise who, Clooney says, "I've known for a long time.
I like him very much. He's a good guy. I said, 'How are you holding up?' He had gone through a couple bouts of people the media being tough on him. I didn't give him advice. We were just talking and I was saying always best to beat them to the punch. Make fun of yourself... He is one of the great all time movie stars, so he's a bigger target in general."
For the entire interview with George Clooney, tune in to Extra tonight!