NEWS
George Lopez Talks Golfing With Justin Timberlake & Jessica Biel: "Great Game"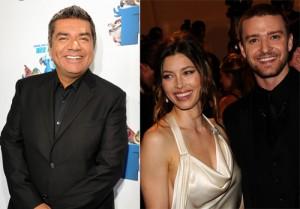 George Lopez may no longer have his show Lopez Tonight, but he is staying busy and hanging out with celebrities — like going golfing with friendly exes Jessica Biel and Justin Timberlake.
OK! GALLERY: JESSICA BIEL CHECKS OUT JUSTIN TIMBERLAKE'S GOLF SWING
While chatting with George at a press conference on Sunday about his participation with Carnival Cruise Lines to offer entertainment, OK! also asked the comedian about his involvement in golfing with Justin and Jessica.
Article continues below advertisement
George had been spotted looking quite stylish on the golf course with the former couple. Jessica and Justin split back in March after dating for four years, but have recently been seen hanging out together once again.
So, who won the game? George, Justin or Jessica?
"You know, I have to say that Jessica had the most potential to be a good golfer," George admitted. "Justin Timberlake, who let me listen to his double jointed shoulder pop — not exciting for a young guy — he has a great game."
OK! GALLERY: JESSICA BIEL BOUNCES AROUND THE BIG APPLE WITH A BABY BUMP
But George said he and Justin also work well together as a team.
"His weaknesses are my strengths and my strengths are his weaknesses," he told OK!. "So If we played together as partners as we did would do really well together."
Only if Jessica is willing to share him!
Reporting by Stephanie Buscema