NEWS
George W. Bush's "Most Disgusting Moment": Kanye West Calling Me a Racist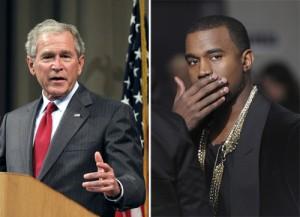 What was George W. Bush's most disgusting moment during his presidency? When Kanye West said he didn't "care about black people."
OK! GALLERY: KANYE WEST DOESN'T RUN AWAY FROM RUNAWAY
There were several moments during Bush's presidency that Americans may find disgusting — like 9/11 or Hurricane Katrina.
But when the former president sat down with Matt Lauer for his first one-on-one interview since leaving the White House, he said that Kanye is responsible for his "most disgusting moment," TV Guide reports.
Article continues below advertisement
During the Hurricane Katrine telethon in 2005, Kanye improvised from his script and said, "George Bush doesn't care about black people."
"That's — 'he's a racist.' And I didn't appreciate it then. I don't appreciate it now," Bush told Matt. "It's one thing to say, 'I don't appreciate the way he's handled his business.' It's another thing to say, 'This man's a racist.' I resent it, it's not true, and it was one of the most disgusting moments in my presidency."
OK! NEWS: KANYE WEST DELIVERS IN DIRECTORIAL DEBUT RUNAWAY
And Bush says the same thing in his book, Decision Points, stating "the suggestion that I was racist because of the response to Katrina represented an all-time low."
But Matt clarified Bush's comments by asking, "You're not saying that the worst moment in your presidency was watching the misery in Louisiana. You're saying it was when someone insulted you because of that."
"No — that— and I also make it clear that the misery in Louisiana affected me deeply as well," Bush added. "There's a lot of tough moments in the book. And it was a disgusting moment, pure and simple."
It doesn't seem like Kanye has responded to Bush's comments about him yet, but he did Tweet something today that could be fitting.
For Bush's full interview with Matt, watch NBC on Nov. 8 at 8/7c!