NEWS
Gosselin Gal-Pal Hailey Glassman Has a Problem with "Fame Whore" Label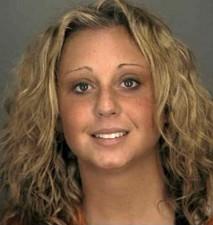 The lovely and charming Hailey Glassman, wants everyone to know that she in no way was looking to become famous when she began dating reality TV's least desirable, most-eligible bachelor, Jon Gosselin. In fact, she wants people to know she's not a "fame whore" so badly, she's going on national TV to say so.
In an exclusive interview with E! News' Giuliana Rancic set to air on Monday, the 22-year-old Glassman defends herself against all the slings and arrows that have been thrown her way in recent weeks.
Article continues below advertisement
"I'm not some fame whore… I've been in hiding for three months," the woman who has been on just about every magazine cover in the world, explains.
"This has been horrible. I don't want fame," she adds for extra measure. "I stay in my house with my parents where I feel safe."
Her house, and on E! News.
Hailey also has some harsh words for Jon's other blonde arm candy, former tabloid reporter Kate Major: "I wasn't worried... I know what Jon tells me and I know him, but she's cuckoo, cuckoo, you know?"
For the entire interview, check out the special one-hour E! News on Monday, Aug. 17 at 7pm and 10pm ET/PT.