NEWS
Gwyneth on Best Pal Madonna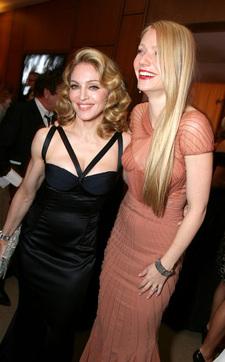 What could homebody Hollywood mom Gwyneth Paltrow have in common with the ever-controversial Madonna? Well, Mrs. Chris Martin herself explains to OK! that what bonds her to best bud Madge is the Material Girl's ability to always pull through, even in the darkest times.
"She's been through everything. And she's a real survivor," Gwyneth told OK! at Wednesday night's gala charity event for Bent On Learning. "Every problem that I've had, she's had ten problems worse that dwarf my problems."
Article continues below advertisement
The two stars have been close friends for a decade, with Paltrow publicly supporting Madonna through her break-up with former husband Guy Ritchie, and the ensuing romance with then-married baseball hotshot Alex "A-Rod" Rodriguez.
"She's a very interested, caring woman," Gwyneth says about her pop star pal. "She's pretty great. She's Madonna and she comes with all this stuff but she's pretty incredible."