NEWS
Hair-Ess a Cut Below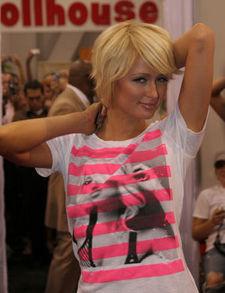 Paris Hilton is often, for better or worse, a trendsetter, but it
looks like this time she's a follower—and I hear not that happy with
her decision. I think Elisha Cuthbert doesn't get enough (any) credit
for being among the first to cut her long longs into a cute, short
bob. I remember because I followed suit very shortly afterward. It
was at least a month later when Katie Holmes created a buzz by
Article continues below advertisement
sheering her long locks, followed by Victoria Beckham bringing her
much-hyped short do to the States.
Now, weeks after the trend pieces on cropped styles being 'in', when
other stars' hair is already starting to grow out, Paris chopped her
own into very styled short cut. Or, rather, she took out the hair
extensions she's had in for as long as I can remember—you know, the
hair extensions so important that she had them done during house
arrest. Personally, I have to admit that I like her short look. I
think she should have considered it as part of her short-lived post-
prison image makeover.
But I'm told that when she was recently out at 'her table' at hot new
LA club Opera, the same table she occupies at the club just about
every Thursday, she looked miserable. Someone at the club that night
told me, "She was so upset with her haircut that she left and came
back with a hoodie over her head." To make matters worse, when she
returned she found the victim of another hair tragedy had taken over
her table. But she didn't ask Ms. Britney Spears if she could have
her seat back.