NEWS
Hannah Montana Vs. the Rolling Stones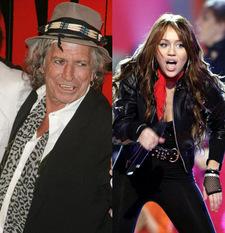 concert documentary, Hannah Montana & Miley Cyrus: Best of Both Worlds set records during its February run, but can she compete with the Rolling Stones?
Aging rockers they may be, but the music legends are packing some serious heat with the release of their own concert movie, Shine a Light, (to be released on April 4). The film is directed by Oscar-winning director Martin Scorsese, which could be the just the recipe for some tough competition.
Article continues below advertisement
"I'm in competition with nothing," Rolling Stones' Keith Richards told OK! at the Shine a Light premiere in NYC on March 30. "This is why I'm in this game."
The veteran rock 'n rollers say they feel sorry for the new crop of hard living stars like Britney Spears and Lindsay Lohan. "Ah, the poor things," Ron Wood, 60, said. "I'd love to help them." So what's the rehabbed rocker's advice for those dealing with sobriety?
"You've got to go through it to get to it," he says. "You've got to experience all the lows because life is hard."