NEWS
Have Lindsay & Sam Made It Official?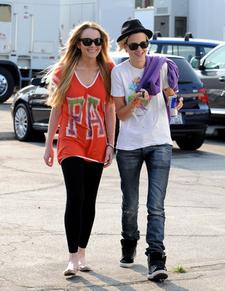 After more than a year of speculation that Lindsay Lohan and near-constant companion, DJ Samantha Ronson, are more than just BFFs, it looks like the blonde brit has gone and announced their couple-dom in that most modern of ways — on Facebook!
According to friends of the DJ, who has been spotted smooching and embracing the 22-year-old actress several times in recent months, has updated her lovelife status on the online social networking site from "single" to "in a relationship."
Article continues below advertisement
And, as if to put any doubts to rest about who the other half of that relationship might be, Sam's profile pic features her and Lindsay together at Disneyland.
While Linds' little sis, Ali Lohan, has come out to say that her scandal-magnet sibling is, the actress' mom, Dina Lohan, recently told OK! about her daughter and Sam: "If she's happy, I'm happy."