NEWS
Heath Ledger Dies at 28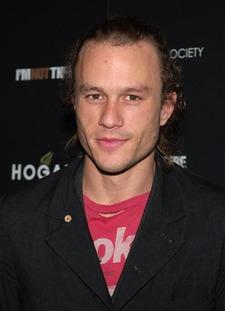 UPDATE: Sleeping pills weren't the only thing found in Heath Ledger's Soho apartment. According to New York's CBS 2, a $20 bill containing residue of an unknown substance and what appear to be drug baggies were also in the apartment.
Though it is unclear whether these narcotics belonged to Heath, or whether they had anything to do with his tragic death, a friend of the actor confirms to OK!, "Heath had serious problems with drugs, including cocaine and heroin."
Article continues below advertisement
_______________________
In news that shocked the world, Oscar-nominated actor Heath Ledger was found dead inside his apartment in Manhattan's Soho neighborhood on Tuesday.
The 28-year-old was discovered Tuesday afternoon when a masseuse arrived for a scheduled appointment around 3:30 p.m. Unable to enter the apartment, Heath's housekeeper opened the door and found the actor unresponsive and unclothed in the bed with pills scattered around. Authorities were contacted and the actor was eventually pronounced dead around 3:45 p.m.
Amid a flood of reporters and onlookers, the medical examiner arrived on the scene at 5:40 p.m. Heath's body was eventually wheeled out of the building at 6:30 p.m.
New York Police Department Deputy Commissioner Paul Browne confirmed to OK! that the pills found near the actor were sleep aids prescribed to the Brokeback Mountain star. However, Browne also said that he was in no position to make a claim whether or not drugs were involved in the actor's untimely demise. The police have stated that they have yet to find any illegal substances in the room, and the official cause of death will not be released until after the medical examiner has had a chance to look at the body and can file a proper report. An autopsy is expected to begin Wednesday.
Article continues below advertisement
Teamba Mossa, the superintendant for the building, confirms to OK! that Heath did not own the apartment, and that he received a frantic phone call from the housekeeper following her discovery of the star's body. Mossa also tells OK! that Ledger was a very good tenant since moving into the building in the fall of 2007. "I always have conversations with him when I see him," Teamba told OK!.
"It was a shock," Julie McIntosh, who worked in a salon near the apartment, tells OK!. "He seemed so lucky, and had so much going for him."
A statement issued by Warner Bros., the studio behind Heath's upcoming Batman film, The Dark Knight, reads: "The studio is stunned and devastated by this tragic news. The entertainment community has lost an enormous talent. Heath was a brilliant actor and an exceptional person. Our hearts go out to his family and friends."
According to a friend of the star, Heath was severely depressed following the August split from former girlfriend Michelle Williams, with whom he has a 2-year-old daughter, Matilda. "He frequently seemed comatose and out of it," the friend tells OK!. "Heath had serious problems with drugs, including cocaine and heroin."
Article continues below advertisement
However, adds the friend, Heath had been trying to stay sober in recent months. "At a party in December, he was doing his best to avoid people doing drugs," explains the friend. "But that didn't seem to work, as he was spotted partaking later in the night."
In an interview with New York Magazine following the release of his 2006 film Candy, in which he portrayed a junkie, Heath denied having even tried heroin. "It has been so romanticized through music, literature and movies," he explained. "I kind of feel like anybody on the street could portray a junkie. But I've smoked a joint before, so I know what it's like to be high. I'm addicted to tobacco, so I know what an addiction is — you just amplify it."
Heath Ledger's father, Kim, released a statement to the media, calling Heath's death "tragic, untimely and accidental."
"Heath has touched so many people on so many different levels during his short life, but few had the pleasure of truly knowing him. He was a down-to-earth, generous, kind-hearted, life-loving, unselfish individual who was extremely inspirational to many. Please now respect our family's need to grieve and come to terms with our loss privately."
Ledger's mother, Sally, younger sister, Kate, family and friends have gathered at a house in the Perth suburb of Applecross to mourn the actor's death. Ledger reportedly visited Perth last month for Christmas.
By Jocelyn Vena