NEWS
Heather Graham Indifferent About Having Kids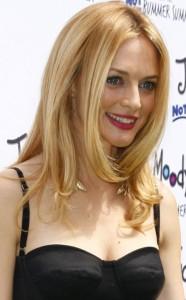 Heather Graham and beau Jason Silva hold hands during the Kimchi Chronicles premiere party in NYC. She introduces him to Hugh Jackman and wife Deborra-Lee as her "boyfriend" and the foursome chat about adoption.
Playing the "cool" aunt in Judy Moody and the Not Bummer Summer, in theaters now, left the 40-year-old actress in the company of children.
"It was so fun," she tells me. "I loved being around the kids, and doing a movie that was about the importance of having fun."
Article continues below advertisement
Despite a role starring in the kids' movie, she isn't feeling broody.
"I mean, I feel like it could be really fun, but I sort of feel open to whatever happens, like if I do or if I don't," Heather tells me of having children.
What would be fun about it?
"Well, my best friend has these little kids I'm totally in love with, so I love them. I took them of the premiere of this movie."
For now, the couple doesn't rush spending their time alone together.
"I take her to eat Venezuelan food in the East Village," Jason tells me. "There's a great place called Caracas. We do a lot of lazy cuddling."
Heather says, "Laziness, eating. He makes me watch the TED lectures. He's into TED."
Jason adds, "We watch TED constantly."
Heather says, "He's very intellectual. It's good."
They also spend time cooking in the kitchen.
"I like making a sea bass with a hazelnut crust," Heather says. "I copied it from a friend of mine. It's hazelnuts, bread crumbs, cilantro, cayenne pepper, soy sauce, honey, olive oil and lemon."
Article continues below advertisement
Jason says, "I think it's extraordinary. I think everything she touches is amazing."
Heather adds, "He likes it better when I make Cajun catfish, actually. I make these sweet potato and regular potato fries. They're wedged fries."
Jason says, "They're good."
The lovebirds recently took a European vacation.
"We just got back from the South of France," she says. "Someone said to me 'you look like a champignon' – that's mushroom. It was the big, floppy hat. laughs"
Through it all, Jason is by her side.
Why are they perfect together?
"Rapturous love – ecstatic bliss," charmer Jason says.
"He's awesome," Heather confesses.
They adore each other's attitudes.
"He has a very positive, optimistic outlook, " she says. "I think I do, too, so I think that helps, because anyone can get a bit stressed."
Jason adds, "It's dopamine feedback lube of positivity going both ways."
Here's a pic of Heather and Jason:
For more on Heather Graham, pick up the OK! on newsstands now. The cover line is "Bachelorette Ashley: Stabbed In The Heart." And catch her in Judy Moody and the Not Bummer Summer, in theaters now.