NEWS
Heath's Friends Present His Final Role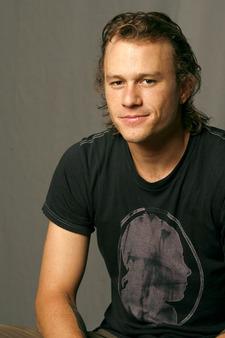 Heath Ledger's last role in The Imaginarium of Doctor Parnassus was an unfinished one, but his co-stars and other friends rallied to complete it in honor of the late actor. Director Terry Gilliam told the audience at its premiere at the Cannes Film Festival that Heath's zeal and dedication inspired those around him.
"Heath was enjoying himself so much, and he was ad-libbing a lot, which I don't normally allow ... but Heath was just brilliant at it, and he got everybody else going," Gilliam said. "Everybody was just energized by Heath. He was extraordinary. He was almost exhausting because he had so much energy."
Article continues below advertisement
Heath's inexhaustible energy affect everyone else, Gilliam added.
"That just passed on to everyone else. Everyone's part grew because they were full of Heath's energy," he said."What I thought was interesting was to watch people filling the void that Heath left. Everybody was just growing to make sure that there was no void left in the space that Heath had left us."
After Heath's death to an accidental overdose of prescription drugs, the filmmakers had to scramble to figure out how to complete his unfinished work.
"Fortunately, I was surrounded by really good people who insisted that I couldn't be such a lazy bastard and that we had to go out and find a way of finishing the film for Heath," Gilliam said of casting Johnny Depp, Jude Law and Colin Farrell to play incarnations of Heath during otherworldly portions of the fantasy film.
"This is the movie Heath wanted to see, and this is the movie that we will do. And I hope he would be pleased with it. I think he would be," added Gilliam.
The movie closes with the dedication: "A film from Heath Ledger and friends.