NEWS
Hey Jude, Are You Dating Sienna Again?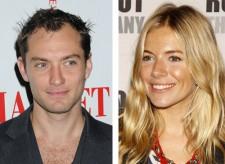 Fans who were rooting for Jude Law and Sienna Miller to reunite are out of luck — at least when it comes to the chance for romance: A rep for Jude tells Glamour.com that the exes are just being friendly while they're working in NYC.
"Jude and Sienna are just friends and are seeing each other socially occasionally as they are both on Broadway, performing just one block apart," she tells Glamour.com.
Jude is currently starring in Hamlet and Sienna is playing the title role in After Miss Julie.
Article continues below advertisement
The couple dated for two years and were engaged at one point, breaking things off in November 2006 after Jude revealed he'd had an affair with his children's nany.