NEWS
Hilary Duff on Motherhood, Getting Back Into Shape & Prepping for Baby Number Two!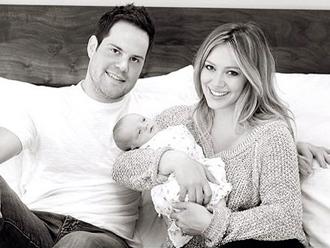 View all comments
Hilary Duff is basking in motherhood! The actress, who recently gave birth to her first child with husband Mike Comrie, son Luca Cruz, gushes to Parade magazine about her life as a new mom, her plans to get back in tip-top shape and her thoughts on having another baby.  
OK! NEWS: HILARY DUFF REVEALS PHOTO OF SON LUCA AT TWO WEEKS OLD! 
"I felt my heart grow the second I met him," Hilary says of motherhood. "You feel so protective right away. You feel loving and nurturing right away. Everybody always talks about it, about how you don't know love until you meet your baby, and you really feel that. There are no words. It was a really wonderful surprise. And there is no way to prepare yourself for the sleep deprivation and what comes with it." 
Article continues below advertisement
Hilary has already been hitting the gym — just three weeks after giving birth — and admits that she's doing it for no one but herself. "I don't have a project waiting on me that I have to bust my butt to get into shape for so it's more about how I feel," she admits. "I like working out since it makes me feel more clear-headed and positive. I did pilates and yoga during my pregnancy but I really missed getting my butt kicked." "But then I read comments on my Twitter page about how I'm waddling into pilates and I go, 'Wow, that's a really mean thing to say. I just had a baby three weeks ago!'" she adds. "There is a little bit of pressure but most of it comes from me." OK! NEWS: FIRST PHOTO OF HOT MOM HILARY DUFF POST PREGNANCY  As for how she feels about having another child, Hilary says she's going to wait it out a bit, but that it's important to her that Luca has a sibling close in age. "To be totally honest, I had a really easy pregnancy and I did enjoy a lot of it. But a part of me isn't like those women who love being pregnant," Hilary reveals. "I love my baby and I miss that feeling of being attached to him when he's kicking, but I was so ready to not be pregnant." "Right now, I'm focused on being the best mom I can be and when I start working again, I'll see how I juggle everything," she explains. "But then again, my sister Haylie Duff and I are very close so I want Luca to have someone close to his age — but not too close!"