NEWS
Hogan Family Divorce Drama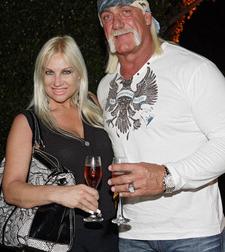 The family of wrestling superstar Hulk Hogan portray the happy, weird family next door on their reality show Hogan Knows Best, but reality is quite different.
Last week, Hulk's wife, Linda (whose real name is Linda Bollea), filed for divorce from her husband of nearly 25 years, who was born with the not-so-scary name of Terry Bollea. This comes only weeks after their 17-year-old son, Nick, was involved in a nearly fatal drag racing accident that almost killed his friend and passenger. And let's not mention daughter Brooke Hogan's, failed attempt at pop music stardom.
Article continues below advertisement
Quickly after Linda filed the papers, rumors surfaced that the former pro wrestler learned the bad news, not from his lawyer, but from a Florida newspaper. Since then he's quickly stomped those rumors saying that he actually heard about it from his lawyer.
Although the divorce may have been initially surprising to viewers of their show, the Hogans have apparently been going through marriage problems for quite a while. It was even later documented on their show. But, according to a story on TMZ.com, Linda still hopes that maybe things can work out despite the fact that she was the one who filed the papers.