NEWS
Hollywood's Hottest Howlers Revealed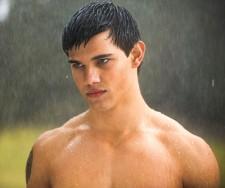 Last week, we reminisced about the hottest vampires ever to hit Hollywood, so it's only fare to recognize the leading werewolves on the silver screen.
So in honor of the release of New Moon, OK! recalls the wildest werewolves of all time. And don't forget to cast your own vote!
Sexiest Savage:Taylor Lautner (New Moon) This heartthrob famously packed on 30 pounds of muscle to play the newly wolfish Jacob Black. And female fans weren't the only ones who were impressed by the 17-year-old's transformation. "I was like, 'Now I have to go to the gym' " co-star Robert Pattinson says. Taylor addresses his character's often topless appearance. "There's a reason that Jacob's not wearing clothes all the time. One, when he transforms, all his clothes get shredded. He can't help it. He's also hot. He's 108 degrees."
Article continues below advertisement
Mightiest Mutant: Hugh Jackman (Van Helsing) In this 2004 thriller, Hugh stars as a monster-hunter who morphs into a werewolf while trying to defeat his nemesis, Count Dracula. Director Stephen Sommers says there was never any doubt sexy Hugh would win the titular lead: "How many guys out there are that good-looking and that talented?"
Freakiest Furball- Jack Nicholson (Wolf) After being bitten by a wolf, unlucky-in-love book editor Will Randall gets his freak on — literally (by becoming a werewolf) and figuratively (by romancing Michelle Pfeiffer). There's a lot to love about playing Will, but Jack admits he wasn't so enamored with the first wolf mask he was asked to don: "It looked liked Plane of the Apes."
Most Likeable Lycanthrope: Michael J. Fox (Teen Wolf) In this 1985 flick, Michael plays Scott Howard, a high school loser who becomes wildly popular after classmates find out he's really a werewolf. The film's popularity has likewise skyrocketed over time: A 1987 sequel starred Jason Bateman and MTV is working on a series based on the original flick.
Fiercest Fangs Bearer: Benicio Del Toro (The Wolfman) The latest werewolf film doesn't debut until February 2010, but Benicio is already generating serious buzz. Even co-star Emily Blunt admits that the intense actor's performance was so scary that she had zero trouble playing a frightened damsel. "I really was running. Fast. In a corset," she says.