NEWS
Hope For Haiti Telethon Raises $66 Million with Album Proceeds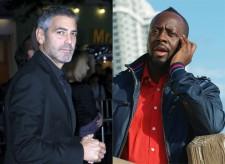 The star-studded Hope for Haiti Now telethon, led by George Clooney, has raised more than $66 million for relief and recovery efforts in the devastated country. The large figure includes proceeds from sales of the Hope for Haiti Now album, a record of live performances from last week's global telethon.
Today, the moving collection of songs from artists including Bruce Springsteen, Justin Timberlake, Beyoncé and Madonna has emerged as the first-ever digital-only album to debut at No. 1 on the Billboard 200.
Article continues below advertisement
Hope for Haiti Now was bought for download more than 171,000 times in the U.S. through Sunday, Jan. 24, according to Nielsen SoundScan.
The album sold an additional 60,000 copies outside of the U.S. through Sunday, and sold 300,000 individual audio performances as well as 15,000 downloads of the full two-hour video telecast through Sunday.
Breaking records, the album has also hit No. 1 on iTunes in 18 countries, and Hope for Haiti Now is the first project to simultaneously reach the No. 1 spot on the U.S. iTunes album with help from the song "Stranded (Haiti Mon Amour)" by Jay-Z, Bono, The Edge and Rihanna, and television charts.