NEWS
HOT GALLERY: Oh, That's Definitely Shiloh!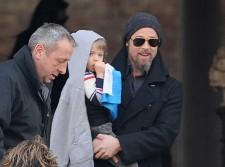 We'll be the first to admit that a fierce debate was raging her at OK! earlier, after seeing pics of Brad Pitt, Angelina Jolie and Zahara Jolie-Pitt out and about in Venice — we couldn't tell if it was Shiloh accompanying them, or, as many media outlets were reporting, her little brother, Knox. But upon further review and new evidence, we're calling this one: That's definitely Shiloh!
OK! HOT GALLERY: BRAD & ANGIE TAKE TWO OF THEIR BROOD BOATING
Article continues below advertisement
The confusion arose when some photos labeled the tyke in question Shiloh — which made sense with the missing tooth and blankie — while others dubbed the blondie Knox.
We even asked readers to vote — and they came out in an almost dead even split between the two!
Check out the new pics yourself and we're sure you'll agree that the tall youngster Brad's toting has just got to be his daughter Shiloh! Since then, many news outlets have also started questioning which Jolie-Pitt is pictured.
Meanwhile, it seems Zahara is making fun of all of us, sticking her tongue out as she gets into the boat!
Disagree with our decision? Let's hear it!