NEWS
How Can SNL Outdo Itself Next Season?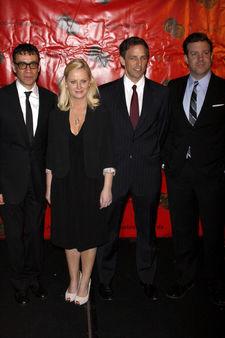 Between Tina Fey's Sarah Palin impersonations and Justin Timberlake and Andy Samberg's collaborations, this season's Saturday Night Live will be hard to top. Saturday marks the first weekend of the show's off-season and three month hiatus, leaving fans wondering, " What could they possibly come up with next season?"
"We're going to get Jesus to host," SNL actor Jason Sudeikis told OK! at the Peabody Awards in NYC May 18. "That'd be neat, right?"
Article continues below advertisement
While having God host the show might be well, impossible, even creator Lorne Michaels is out of ideas on what or who to bring back.
"Nothing so far," he says. "But summer's just beginning so we'll go look at new people and anybody we get excited about we'll bring back."
If after summer Lorne's still out of ideas, SNL vet Fred Armisen's got some suggestion on his favorite skits.
"I love Bill Hader doing Vincent Price, I could watch that all day," says Fred, whose New York Governor Paterson and Barack Obama impersonations became YouTube sensations. "I like other people's skits more than mine."
While playing the most powerful man in the world might seem intimidating, Fred said there was no time for butterflies when he found out he had the role.
"It happened so fast there was no time to be nervous," he tells OK!. "To practice I make recordings of myself and play them back."
So will he reprise his role as the Commander in Chief next season?
"We'll see," Fred says with a smile.
Last Saturday's finale was one for the record books with guests including Anne Hathaway, Tom Hanks, Elisabeth Moss, Paul Rudd and SNL alum Will Ferrell, who gave the audience a treat when he joined Green Day on stage after the show wrapped and reprised his famous Oyster Cult skit by playing a cowbell with the band, something viewers at home didn't get to see.
Article continues below advertisement
"It was great," SNL star/writer Seth Meyers tells OK!. "To watch Green Day and watch Will Ferrell with the cowbell, you can't lose."
While the hit finale only intensified the anticipation for next season, viewers aren't the only ones who will be counting down till the fall.
"It is strange especially the end of a season like this, just to realize we're not going to go in Monday and pitch ideas," Seth says. "I've yet to cry at a finale but it's always really emotional."
And as for God making a cameo at the premiere?
"We may be just on the brink of Armageddon if that were to happen," admits Jason. "That's just a rumor, we'll see."
By Laura Lane